This article may contain affiliate links, and I will be compensated if you make a purchase after clicking on my links (at no additional cost to you)
When deciding to take your dog on its highly anticipated walk, a high-quality harness can do wonders not only for your Bully's health and comfort but for your peace of mind as well
In my opinion, the best harness for an American Bully is the Julius K9 Dog Harness, which is a heavy-duty, breathable, and high-quality option that should last a long time. Its leash provides great control while the material is durable but gentle on your dog's skin.
In this article, I will take you through my experience searching for the best harness for an American Bully in hopes that you may use my experience to make the best possible choice for you and your puppy. 
Although I have found the perfect alternative for my pup, there are so many great options in the market right now that you can always find a product that's tailored to your exact needs. 
Best Overall for American Bullies : Julius-K9
There's an excellent, albeit pricey, solution for the most energetic and uncontrollable bullies out there.
The Julius-K9 offers the best control out of all the harnesses in the market, providing excellent strength and durability while also giving your dog flexibility and freedom in movement.
Similar to the Babyltrl option, this product is made of a reflective nylon material that provides breathability and comfort to your pet.
The metal handle-fixing function minimizes the chances of your dog getting hurt or injured, keeping them secure when going on harder-terrain hikes and runs.
This harness comes in a variety of sizes, including a 4XL size for bigger XL bully males, and its soft and hypoallergenic material will be gentle on your dog's skin, providing unparalleled comfort and ease in movement.
This option also comes with a few interesting design choices. Along with being reflective, the outer cover is also water repellent, making it ideal to use in every climate.
Overall, the heftier price tag is more than justified by this product's overall excellent quality and functional design, so if you want to make a longer-term investment for your Bully, the Julius-K9 would be a great choice.
This adjustable, heavy-duty harness with a back handle cannot be beaten when it comes to the value it offers.
It's not easy to find such a high-quality, padded, and breathable design for a cheap price, and this product delivers when it comes to the claims it makes.
This no pull harness is made of durable nylon and soft padded material, making it an ideal option for short-haired breeds like Bullies.
The nylon also offers breathability and can withstand a lot of wash cycles without losing its structural integrity.
The company employs an anti-tear design in all its products by placing the adjustment straps closer to the neck instead of the body, making the product more durable and ideal for a bigger and stronger breed.
Users report that this option is highly functional, as it can be quickly buckled even around the fussiest of dogs, and it can be just as easy to take the harness off. The piece's functionality also comes through its shape, which seems comfortable to wear and gentle on your pet's skin.
The back handle offers enough support without risking the leash's tangling, which can become a tripping hazard for your dog, yourself, and others.
The comfortable and breathable fabric makes this product suitable for training, running, and hiking. Its high-quality buckles stay put and keep the dog secure in its harness, despite any possible vigorous and unexpected movements.
The product's design qualities are impressive as well. Its reflective lining makes it ideal for walking your dog in the early hours of the morning or late at night, while the quick-release buckles make getting your energetic Bully out of its harness a breeze. 
The back attachment is put further back than most other alternatives, putting as little pressure as possible on your dog if they tend to pull.
A strong and energetic American Bully would thrive in this durable, soft, and comfortable piece, so if you're not familiar with this no pull harness yet, I highly recommend giving it a try, as it will certainly deliver the most bang for your buck.
If you're on a tighter budget, the Pawaboo Dog Safety Vest Harness may be the way to go.
Being on a budget doesn't necessarily mean sacrificing quality, and this product helps you get the best of both worlds.
Its X-style structure allows for a greater range of motion, while the soft, padded polyester fabric will provide comfort and breathability for your dog even in the most tiresome walks and runs. 
This product is also ideal for transportation as it was designed with car rides in mind. It is a durable, good quality, and affordable option that is certainly worth giving a try, especially if you're on a tighter budget.
If you find yourself being constantly pulled by your dog and you're looking for an option that gives you better control and puts less pressure on your dog's chest, I recommend taking a look at the Eagloo No-Pull dog harness.
The adjustable clip gives you complete customization freedom in placing the leash in the position that gives you the most leverage and control when your dog pulls.
The soft and adjustable harness made out of nylon webbing, on the other hand, ensures that your American Bully doesn't experience a lot of pressure and stays safe and unbothered while it explores the outdoors at its own pace.
If you find yourself struggling with this specific problem (your dog constantly pulling you), investing in buying a high-quality, no-pull harness as this Eagloo option can enhance your walking experience.
Factors To Consider
Before diving straight into my top picks, I would like to firstly take you through my selection process.
I chose six factors that, in my opinion, are the most crucial in selecting an ideal lead for an American Bully and kept them all into consideration when trying out new products in hopes of keeping the comparison as level and fair as possible.
Size
The most important criteria to take into consideration is your dog's size. If there's anything you take away from this article, let it be the fact that a well-fitted harness can make a world of difference when it comes to your pet's comfort and health. 
American Bullies are generally considered medium-sized dogs, but they tend to be heavier and stronger due to their muscular structure, which can make finding a well-fit and high-quality harness a bit more challenging.
Their high-energy personality also needs to be considered when deciding on a lead, as their quick and energetic movements can put a lot of stress on their harnesses.
Before going shopping, you first need to measure your puppy's rib cage, which will be the area with the most contact to the equipment. 
The ribcage is placed right behind your dog's front legs, so that's the area you want to measure around.
You should also consider the perimeter of the body, which you can measure by getting your pet up on its feet and measuring the widest part of its chest.
If you're still unclear about the measuring process, you can find more detailed information in this video.
A perfect fit is of utmost importance because a too-tight harness can be suffocating and painful.
While a version that's too loose can cause chafing against your dog's skin, not to mention it can be easy for your American Bully to slip out and run, which defeats the whole purpose of a harness. 
The perfect sized alternative should allow you to fit two fingers between your dog and all the straps of the lead, no more, no less.
If you're still unsure, you can test the product by taking your pup on a test walk around your garden or balcony.
That said, do not throw away the packaging and receipt before trying the harness a couple of times in different environments, as problems may not start appearing until a specific amount of time has passed.
The dog harnesses thickness should also be assessed, just like a dog collar as a thicker option may not be ideal if you live in a warmer climate, as it may lead your dog to overheat.
The perfect thickness may depend on your environment, the material's quality, your dog preferences, etc., but always think it through. 
The size assessment is a process that should be repeated regularly, especially if you're taking care of a puppy or a younger dog that seems to grow by the day. Even older dogs can fluctuate in size due to their weight and health, so make sure to check whether the sizing is right consistently.
Padding
Padding is not always essential in a harness unlike a dog collar, but it does help immensely with comfort and prevents skin irritations.
Especially for a short-haired breed, like the American Bully, the padding would be highly advisable, as the soft material would not cause rubbing when worn so close to your pet's skin. 
Cost
As I mentioned before, the ideal purchase would not only be helpful to your pet's health and security but also your budget. This doesn't mean going for the cheapest possible option, as they tend to cost you more in the long run and could damage your dog's health, which is the main reason you're buying a harness to begin with.
The best quality product isn't necessarily always the most expensive, and as you'll see in the following sections, the market is not lacking excellent options at a reasonable price.
Depending on its quality, durability, materials, size, and design, a harness will generally be priced at around $13-$60. This is an average ballpark, as you can find options further for either end of the spectrum, but if you're looking for the best bang for your buck, I advise staying within this realm.
Comfort
Comfort is another key criterion that needs to be taken into consideration when choosing.
A comfortable harness is of the essence, as it will be the deciding factor when it comes to the quality of your walks.
Given that you're looking to make an investment, your pet will use this product long-term, which will inevitably impact their health.
A comfortable option shouldn't put any unwanted pressure on the dog's throat, neck, or body, as it can impair their ability to breathe and run freely.
When it comes to deciding on the best lead for your American Bully, comfort should be unnegotiable. 
Even when a product looks perfect on paper, meaning that it is an ideal size and comes equipped with all the characteristics you were looking at, if your pet seems uncomfortable or tense wearing it, you should start looking at other options.
Design
Looking at all the different kinds of designs that markets are offering nowadays can get pretty overwhelming.
But choosing the type of harness best suited for American bullies comes down to their strength and energy levels. There are several different options that can prevent your dog from pulling you around.
A traditional body harness with a back attachment can be an excellent choice, as it offers you more security and control while not causing throat damage in the event your dog starts pulling.
Although this specific type is used more often for smaller dogs, it can still come in handy for a younger Bully or even a more well-mannered adult one.
This type of harness is highly advisable when using a long-line training leash.
A front hook harness has a clip on the animal's chest instead of its back, giving you better leverage and more control over your dog's body.
This option can be used in more populated areas, for example, when walking around a city or a park, as you would need the extra control that the front hook provides. 
While a front hook can give you better control, therefore, it can be ideal for less trained dogs; it can also become a hazard for you, as well as the pet, as it can get tangled pretty easily. 
Whereas the last option would be better suited for hiking or running, the latter is ideal for leisure walks in busier spaces. This means that the perfect harness for you depends not only on your pet's characteristics but also on the types of walks you find yourself taking your dog on most often.
Lately, side attachments have become more and more popular. Dog owners seem to think they offer the best of both worlds. That said, they're still not widespread enough to be evaluated accurately with all their advantages and disadvantages.
For the harder-to-control American Bullies, on the other hand, you may want to look into searching for a head halter. This piece can fit around your dog's head and muzzle, with a style that perfectly fits stronger breeds. 
If you're thinking of going for this option, though, you need to pay even more attention to the measurements you took in the first step. Given that this equipment will be put around the pet's face, the measurements must be exact to give adequate comfort and breathability. 
For this reason, you also need to be extra careful when leading your dog using this harness because the restrictive headgear may be damaging to your pup's head if you pull the leash too aggressively.
Although there are other alternatives in the market, they tend not to be ideal for a breed like American Bully for various reasons that include the level of energy, size, and body shape that they're designed for.
At this point, you can also choose any visual and design effects that you would like to make the harness more aesthetically pleasing. If you're taking a lot of early morning or late night walks, consider looking into an option with reflective material.
Quality
Last but not least, you should carefully analyze the quality of the product you're buying, as it will determine its usability and longevity.
When buying a lead, you should look for the most functional material, which would be soft, durable, and easily washable. 
If you want to go the extra mile, you can look for a leather or leather imitation option, as they tend to be gentler on the skin.
That said, each dog has its preferences which should be taken into account. Beware of materials that may cause your pet rashing or allergic reactions. 
Durability is also of the essence, as you're making an investment, so try to consider how well a material will hold up to extended use and hundreds of wash cycles.
Make sure to always go for an adjustable model as well, as buying a new harness every time your dog's weight fluctuates can hinder your finances.
Key Takeaways
Buying a harness for your American Bully is a decision that needs to be made by considering several important factors, such as size and energy level, padding, cost, comfort, design, and quality.
For most owners with medium sized dogs, the option that offers the most bang for their buck is the Babyltrl Big Dog Harness.
That said, depending on your specific needs and priorities, there are many great alternatives that can offer the best possible walking experience for your American Bully.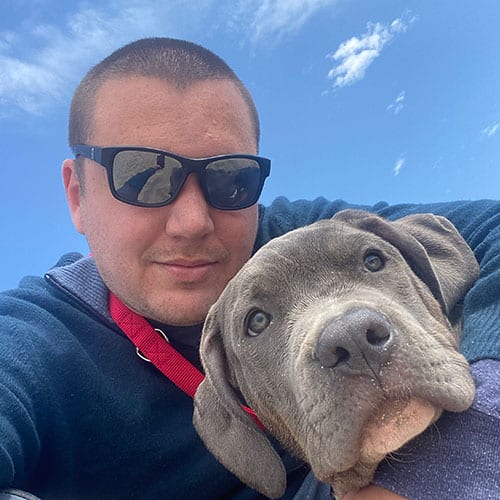 I created this blog to share my passion for bullies, and help current and future pitbull owners with things like diet and education.
Hope you find it useful, don't hesitate to drop a comment on my articles!