This article may contain affiliate links, and I will be compensated if you make a purchase after clicking on my links (at no additional cost to you)
American Staffordshire terriers are naturally athletic, highly active, and energetic. They require high-quality and balanced nutrition to fuel their lifestyles. What is the best dog food for Amstaffs that can provide all the nourishment they need? 
The Canidae All Life Stages is the best food for most American Staffordshire Terriers. It provides them with the high amount of protein they need from whole meat sources, omega 3 fatty acids, and probiotics. It is free from additives and is veterinary formulated for complete nutrition.
The times when I wouldn't recommend Canidae All Life Stages would be: 
In this article, I will go over the factors you need to consider when buying dog food for your American Staffordshire Terrier, then discuss why Canidae All Life Stages is the best food for your Amstaff to develop and maintain strong and healthy muscles.
I will also list other great, high-quality food choices for more specialized diets. 
The Canidae company is known for its grain-free, high-quality ingredients dry food. This dog food is protein-rich from whole meat sources such as lamb, chicken, turkey, and fish. 
The formula includes healthy whole grains and is packed with nutrients, and includes fresh fruits and vegetables. There is absolutely no corn, wheat, or soy, which are common dog allergens. 
Formulated by a veterinarian, it is free from all fillers, additives, and anything artificial.
The Canidae company is also independent and family-owned, so they have high control over the quality of their ingredients. 
This food has probiotics, antioxidants, and omega essential fatty acids for overall digestion, immunity, and skin health.
Amstaffs are prone to developing allergies which cause itchy skin. The added omega fatty acids are perfect for reducing such itching and irritation. 
Overall, the Canidae All Life Stages dog food is the perfect choice for most American Staffordshire Terriers with its high protein, high nutrient, and whole, high-quality ingredients. 
Pros
Fit for all ages and sizes 
High protein from whole meat 
Five different varieties 
Corn, soy, and wheat-free 
Added probiotics, omega fatty acids, and antioxidants 
Fruits and vegetables 
No fillers or anything artificial 
Human grade ingredients 
Reliable reputation 
Cons
High grain content- not fit for grain-free diets 
Higher than average carb content 
Somewhat expensive 
The Farmer's Dog is a fresh food delivery service for your dog. Customized meals are sent right to your door in convenient Eco-friendly serving packs with a guide on the best way to store them until serving time. 
All the ingredients are human grade and sourced from well-known and local suppliers within the US. All ingredients pass USDA standards, and board-certified vet nutritionists formulate the recipes. 
Fresh food is easier on your dog's digestion compared to dry food because there's nothing processed in it. 
This means your dog could have: 
More energy 
A shinier coat 
A stronger immune system 
Better health all around 
You can be sure that the meals are packed full of balanced nutrients tailored to your dog's specific needs. And, of course, everything is up to AAFCO standards. 
All the food is made in USDA kitchens and facilities and steamed to retain its maximum nutritional value, then frozen and shipped without the need for any preservatives. 
All you need to do is fill out a questionnaire of your dog's activity level, size, and dietary requirements, and The Farmer's Dog will create a personalized meal plan for them.
You can also see all the ingredients in each meal and remove anything you don't like. 
Overall, the Farmer's Dog food is packed with a high amount of nutrients from completely fresh food. Meat, vegetables, and supplemental nutrients such as Omega 3s provide your Amstaff with everything they need to thrive. 
Pros
Completely fresh 
Human-grade ingredients , could be human food!
Vet formulated 
No fillers or anything artificial 
You know exactly what you're feeding your dog 
Added omega fatty acids and vitamins 
Free shipping 
Custom meal plan and recipes 
Pause or cancel at any time 
Cons
More expensive than regular food 
Requires a bit more effort to serve than regular food 
Food takes up a lot of space 
If you think a grain-free diet is best for your Amstaff, I highly recommend checking out Instinct Raw Boost. It is very high in protein and chock full of high-quality ingredients to aid in optimal health.
This dry dog food comes with freeze-dried raw chicken to boost the natural whole food protein. 
Added probiotics aid in healthy digestion, and omega acids from salmon oil promote a shiny coat. Salmon oil contains the prized DHA and EPA types of omega acids, which have the highest bioavailability to dogs. 
Plus, it includes added chelated minerals which are easiest to absorb, and fermented products to aid in digestion.
There are no grains, potatoes, corn, wheat, soy, by-product meal, artificial colors, or preservatives. 
This dry food and raw food mix is also a great choice if you're looking to convert your dog from a regular diet to a raw one.
One of the best dog foods on the market, this mix of raw food and dry kibble makes it an easy raw diet transition tool to get your dog used to the raw element. 
This is a great grain-free option for your Amstaff. It's full of natural nutrition, and the high protein content is ideal for their energy levels. The ingredients are incredibly high quality and free of anything artificial. 
Pros
High protein from whole meat 
All-natural freeze-dried meat addition 
Added probiotics, omega fatty acids, and chelated minerals 
No potato, corn, wheat, or soy 
Raw food without the hassle 
Fruits and vegetables 
No preservatives or anything artificial 
Whole food ingredients minimally processed 
Cons
Somewhat expensive 
Dogs may only eat the raw bits and leave the kibble alone 
The ratio of raw bits to dry kibble can vary 
This limited ingredient formula dog food is perfect for Amstaff's sensitivity to allergies or intolerances. It is formulated to cut down on the ingredients your dog gets exposed to without lessening the protein or nutrient content. 
The limited sources of protein and carbs make it less likely to trigger an adverse response and is easier on your dog's body.
The pure, high-quality ingredients may also erase any stomach pain. 
This food uses real, whole meat as the first ingredient, then whole grain brown rice and a host of added vitamins and minerals for complete nutr
ition. The brand also contains chelated minerals to help with absorption.
Taurine is added for a boost of omega fatty acids. Taurine is an amino acid that comes with a host of health benefits.
It promotes the health of multiple systems such as the heart, eyes, and immune system.  
Overall, this dog food is a high-quality, limited ingredient dog food for Amstaffs prone to allergies. It is full of nutrients, protein, and carbs for sustained energy. 
Pros
Protein from whole meat 
Added chelated minerals and salmon oil  
Balanced Omega 6s and Omega 3s 
Added Taurine 
Limited ingredient for allergy-sensitive dogs 
No added legumes, potatoes, corn, wheat, or soy 
No artificial flavors, colors, or preservatives 
Seven formula options 
Cons
Somewhat expensive 
No probiotics 
High carb 
For dogs who need both a grain-free and limited ingredient diet for their sensitivities or allergies, Canidae Pure Grain Free is the best choice. It has ten key ingredients or less and is chock full of good proteins and nutrients. 
Each formula in the line has real meat, poultry, or fish as the first ingredient.
It is high in protein and includes a proprietary blend of nutrients, antioxidants, and probiotics. 
Added taurine aids in the heart and all-around health.
Added glucosamine and chondroitin promotes joint health, and fermented products aid in digestive health. There is no corn, wheat, or soy, or anything artificial. 
This food is ideal for Amstaff with sensitive stomachs, allergies, and food intolerances. It offers them pure ingredients without grains and the ultra nutrition they deserve. 
Pros
High protein from whole meats 
Limited ingredient and grain-free dry food for sensitives and allergies 
Premium dog food with added probiotics, antioxidants, and omega fatty acids 
Added taurine 
Added glucosamine and chondroitin 
Chelated minerals and fermented products 
No corn, wheat, or soy to help with food sensitivities
Nothing artificial 
Cons
Somewhat expensive for the dog owners
Includes canola oil 
Factors To Consider
When choosing food for your Amstaff, here are the main factors to look for: 
A high amount of protein from whole meat 
Vitamins and Minerals 
High-Quality Ingredients  
An appropriate amount of fats and carbs 
I'll discuss all three below: 
High Amount of Protein
American Staffordshire Terriers is one of the dog breeds that require lots of protein to maintain lean muscle mass. Too low protein and too high fat can promote weight gain, leading to a host of health issues down the line. 
Your American Staffordshire Terrier requires food with at least 18% protein and 5% fat, though between 25-30% protein is best. This protein amount will promote healthy muscles and healthy weight. 
Your dog needs one gram (0.04 oz) of protein for every pound (450 grams) of their ideal body weight each day. Thus, whatever weight your dog needs to be healthy, that's how many grams of protein they need to be consuming in their diet each day. 
The protein in your dog's food should come almost entirely from whole meat sources. Meat should be the first ingredient listed on your dog's food. 
Healthy whole meats to look for in dog food include: 
Beef 
Chicken 
Lamb 
Turkey 
Venison 
Duck 
Rabbit 
Fish 
Meat by-products are very healthy for your dog as well, though the name sometimes comes with negative connotations. Meat by-products refer to things such as muscle meat, hearts, lungs, kidneys, and livers, all of which provide quality protein. 
If your dog has food allergies, they may do better with game meats such as bison, elk, and venison than other protein sources known to cause allergies. 
We tried chicken meal and turkey meal kibbles for my dog, and he's allergic to anything with chicken in it, blue color dogs are especially prone to allergies.
Common protein allergens include: 
Beef 
Dairy 
Chicken 
Eggs 
Soy 
Many dog food companies use concentrated vegetable sources as protein in their products instead of actual meat. Non-meat protein sources are not healthy for your dog, as they don't provide all the amino acids they require. 
There are ten essential amino acids that your dog must obtain from their diet because their bodies can't produce them independently. Thus, choosing a non-meat protein source that doesn't supply all the necessary amino acids is dangerous for your dog's health. 
Always pick dog food with whole meat protein. 
Vitamins and Minerals 
Along with protein, your American Staffordshire Terrier needs to be consuming vitamins and minerals in their diets for proper nutrition, just as humans do, for optimal health. Their high level of activity and power requires a balanced and well-formulated diet. 
Dog foods usually put vitamin and mineral supplements in their products. Your dog can also get vitamins and minerals from fruits and vegetables. 
Popular fruits and vegetables for dogs include: 
Apples 
Bananas 
Spinach 
Sweet Potato 
Pumpkin 
Blueberries 
Carrots 
The most important vitamins that your dog requires include: 
Vitamin A 
B Complex Vitamins 
Vitamin C 
Vitamin D 
Vitamin E 
Vitamin K 
Calcium 
Phosphorous 
Choline 
Balanced dog food will provide all of these vitamins and minerals. To ensure that the dog food you choose does, look for a nutritional adequacy statement on the package or product website. It will most often be on the back label in small font. 
The dog food should also be approved by the Association of American Feed Control Officials (AAFCO). Do not feed your dog any food that does not pass the minimal nutritional standards set by the AAFCO. 
High-Quality Ingredients 
Good quality ingredients are a must in excellent dog food. After all, the ingredients are the entirety of the product. Low-quality ingredients make for a low-quality product, and your dog deserves only the best. 
Avoid products that contain: 
Chemicals 
Additives 
Fillers 
Artificial Flavors 
Preservatives 
Artificial Colors 
High amounts of wheat, corn, or soy 
Sugar 
Salt 
Foods containing solvents and preservatives such as BHA, BHT, propylene glycol, and ethoxyquin should also be avoided. 
Gravitate towards dog foods with high amounts of limited whole food ingredients such as real meats, fruits, and veggies. Because Amstaffs are prone to dietary intolerances and allergies brought on by food, they may do best with a product containing limited natural ingredients. 
Fats
American Staffordshire Terriers need at least 5% fat in their daily diet. Fat, while high in calories, is a good source of energy for your dog and a necessary nutrient. Too little fat or too much fat can both cause health issues for your pet. 
Amstaffs, in particular, need healthy fats to sustain their high activity levels. Active dogs require fat to fuel their muscles, as it gives them the energy to be so athletic. According to Purina, dogs fed a high-fat diet have a greater capacity to perform at an optimum level. 
Fat also has significant other health benefits, such as: 
Promoting absorption of vitamins and minerals 
Regulating inflammation 
Providing insulation and cushioning 
Therefore, make sure to choose a food with an appropriate amount of fat for your Amstaff. 
Some health conditions may cause your dog to need more or less fat in its diet. Chicken fat is also known to cause allergies in some dogs. If your dog has such a condition, talk with your vet to determine your Amstaff's specific needs. 
Carbs
Carbohydrates are an essential source of energy in dog food. While protein contains the amino acids needed to build your dog's body, carbs are a direct form of energy. They provide the most effective energy source for your dog. 
Carbs in dog foods often come from grains. They may also come from legumes, sweet potatoes or potatoes in grain-free versions. However, whole grains provide the most fiber and nutrients. 
Healthy whole grains such as barley, oats, brown rice, and millet are all excellent choices for your Amstaff. They should be listed among the first few ingredients. 
Most dogs need only around 15-20% carbs in their daily diet. However, it depends on your dog's activity levels and lifestyle. Amstaffs are very athletic; therefore, higher than average carbs should be ok if they're burning them off. 
Grains can sometimes cause allergies in dogs, leading many owners to switch their dogs over to grain-free diets. However, unless your dog has a direct grain allergy, it's best not to feed them grain-free. Some connection has been found between grain-free diets and canine heart disease. 
Feeding your Amstaff a grain-inclusive diet should be completely fine.
Though the breed is prone to food allergies, they are far more likely to have an adverse reaction to the protein source in their food than the grain. If you're concerned, speak with your vet to know what may be best for your dog. 
Conclusion
After considering protein content, quality of ingredients, vitamins, minerals, fat, and carbs, I've found that Canidae Life Stages is the best dog food for most American Staffordshire Terriers. 
For diets where the Canidae All Life Stages does not meet all requirements, check out the other picks in this article about american staffordshire terrier food.
Overall, Canidae seems to be the best adult food choice for the majority of Amstaffs.
If you are looking for dryfood for an american staffordshire terrier puppy, make sure to pick puppy food, kibbles are smaller and the ratios and calorie intake are different.
Check out Canidae All Life Stages now!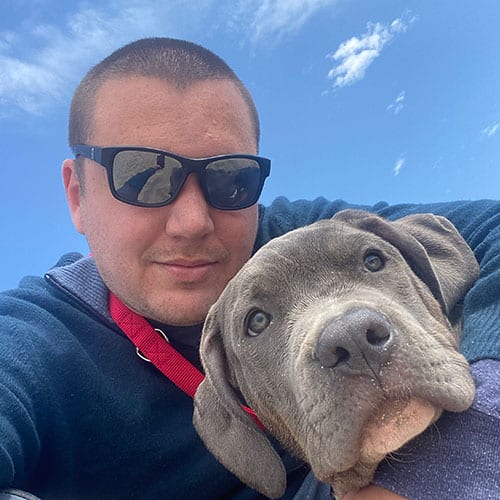 I created this blog to share my passion for bullies, and help current and future pitbull owners with things like diet and education.
Hope you find it useful, don't hesitate to drop a comment on my articles!