This article may contain affiliate links, and I will be compensated if you make a purchase after clicking on my links (at no additional cost to you)
Thanks to their single short coat, American Staffordshire Terriers are intelligent, confident, and incredibly easy to maintain. Finding the right brush is key to keeping your AmStaff in tip-top condition.
The best brush for American Staffordshire Terriers is the Hartz Groomer's Combo Brush. The dual brush takes care of matting, detangling, shedding, and removing dirt from an AmStaff's short-haired, single-layered coat.
This article will highlight why I chose Hartz Groomer's Best Combo Brush as my number one pick.
I will also go over a list of 7 other contenders to consider when selecting a brush for your AmStaff friend, including a list of pros and cons for each. You will have pure confidence when shopping for a dog brush by the time you finish reading!
A Note on American Staffordshire Terrier Fur
If your AmStaff (short form for American Staffordshire Terrier) is new to the family, it is essential to know about their fur coat.
AmStaffs are not "hairy" dogs like the others you may find in the Terrier family, so luckily, they do not require haircuts and heavy maintenance to keep their fur in shape.
AmStaff Terriers have a single short coat. Unlike the majority of other breeds, the AmStaff Terrier does not have an undercoat, so AmStaffs do not have a "heavy undercoat shed" seasonally.
For this reason, you want to avoid purchasing thick brushes or clippers that are meant to groom the undercoat; you could accidentally damage your pup's skin.
Don't be fooled by your AmStaff's short coat; they indeed still shed! They will not have a heavy seasonal shed but a steady light shed instead.
You will still benefit from having brushes that help deshed and remove loose hairs and dead hairs for your AmStaff, as it will lessen the amount of fur around the house (and keep your fur friend happy!)
When reviewing AmStaff dog brushes, I wanted to factor in price, availability, features, design, online reviews, and of course, my own review. This way, I feel there is a 360-degree review of each product.
Hartz Groomer's Best Combo Brush is sold at an excellent price point and is widely available at different retailers across North America.
The two brush heads give you great value for your money, and the ergonomic handle makes it easy to groom your dog.
Multiple online retailers show thousands of reviews of 4.5/5 and higher, showing that the public loves this brush!
Being able to detangle, de-mat, de-shed and groom your AmStaff with a single brush is a desirable feature whether you are on a budget or not.
The nylon bristle side is soft and enjoyable, while the steel bristle side is excellent for more challenging patches of fur. For these reasons, the Hartz Groomer's Best Combo Brush is my favorite for an AmStaff terrier.
Features
The Hartz Combo Brush features dual brushes: a coated stainless steel tip brush for removing mats and detangling and dense nylon bristles to stroke away dirt, de-shed, and improve coat shine by enhancing oil distribution. It also features an ergonomic handle that is perfect for everyday use!
Pros
It has a dual brush head. With two brushes in one, you save money by purchasing one product that has multiple intended uses. The nylon bristle brush is ideal for the short coat on an AmStaff; plus, they enjoy the soft feel. The steel side is not super long and is excellent for going through tangles and mats.
Ergonomic handle and good quality. I found this brush comfortable to use and the quality is excellent, especially for the price. 
Budget-friendly cost. The brush is remarkably well-priced and will fit any budget.
It is available everywhere. The Hartz Groomer's Best Combo Brush is widely available in stores and through online retailers.
Cons
I would not recommend it for dogs with undercoats. Since we cover the best brushes for the single-coat AmStaff, there is no need for a brush penetrating the undercoat layer. If you have another dog breed with an undercoat, the steel tip brush isn't super long and may not penetrate the undercoat.
Furminator Short-Hair Deshedding Brush
Although American Staffordshire Terriers do not have an undercoat, they are prone to shed throughout the year. Having a product like the Furminator Short-Hair Deshedding Brush on hand can reduce shedding significantly! 
This brush is designed for short-haired dogs like the staffordshire bull terrier, so it will not damage your dog's skin.
It easily removes loose hair both on the surface and underneath the coat and features an "eject button" to release the collected dog hair.
Pros
Top-Rated DeShedder. The Furminator brand is a leading brand in the world of de-shedding tools, making this a trusted brush to have on hand.
Ergonomic handle is comfortable. The handle is comfortable and has a natural curve that bends with your dog's shape. I found the grip comfortable.
Furjector button feature. Cleanup is a breeze! Since this brush clings to dead hair, there is no flying fur while grooming. Keep the mess in place by pressing the "furjector" button to release collected hair when needed. 
Cons
It is a deshedder tool only, not intended for regular use. This Furminator product is intended for de-shedding and not for everyday brushing or detangling. You would need to purchase another brush if you are looking to keep your AmStaff's coat in top condition.
The price is higher. The cost is a little more on the steep end than other brushes on this list.
HandsOn All-in-One Grooming and Bathing Glove
When it comes to staffordshire bull terriers brushes, the HandsOn All-in-One Brush fits like a glove – literally.
The nodules in the glove work as de-shedders and exfoliate/scrub thoroughly during bath time.
These gloves are intended for short-haired dogs like AmStaffs and can be used for both daily brushings and bathing.
Pros
Feels like a human touch. If your AmStaff is a little wary of the brush, your gloved hands may be much more inviting. If your dog has had bad experiences with grooming in the past, a gloved hand may make them less frightened of the dog owners.
Works as both a bath scrubber and brush. I love a dual-purpose brush, and this glove saves you from buying a bath scrubber.
Multiple massage nodules. The nodules on the glove will not only help with de-shedding but also massage your dog's skin and help distribute natural oils throughout the fur.
Cons
Will not work for tangles and matted fur. These gloves are not intended to deal with mats or tangles as the nodules are too broad and short. You would also risk hurting your dog if you tried to detangle mats with gloved hands by accidentally pulling too hard.
Flying fur creates a messy cleanup. The nodules are too wide apart to properly "hold on" to fur compared to a traditional brush. As you stroke your dog's coat, hair tends to fly off the glove and land everywhere, making the cleanup part a bit of a mess.
Kong Zoom Groom Rubber Brush
An additional multi-use option is the Kong Zoom Groom Rubber Brush, created by another trusted leader in dog brands.
This rubberized brush is intended to de-shed, massage, and brush dry fur coats in addition to working as a scrubber during bathtime.
The different nodule patterns promise an excellent massage and the ability to capture loose fur. This brush is also intended for most fur types.
Pros
Brush has multiple uses. The ability to use both wet and dry fur is a big plus when it comes to bang for your buck.
The rubber tips capture fur well. The various patterns and proximity of the nodules to one another captures fur well, making cleanup easier.
Works well on dogs with short coats. The nodules are a good length and can effectively de-shed our short-haired friends like AmStaffs.
Great price. This brush comes at a fair price, especially since it has two uses.
Cons
Not advised for shedding or detangling. The entire brush is made from rubber, so it is not strong enough to work through tangles or mats, but you won't need that for your staffordshire bull terrier or american pit bull terrier.
Brush can be hard to grip. More so, when the brush is used during bathtime, this brush is slippery and has no handle or strap to secure it to your hand. If you select the small size, it is easier to grasp but is intended for smaller breeds.
Commonly mistaken for a toy. As the Kong brand is famous for its rubberized dog chew toys, many online reviews state that their dog destroyed the brush during grooming. This "con" may only apply if your AmStaff can't help itself to play with the brush; otherwise, you are in the clear!
Andis Premium Self-Cleaning Pet Slicker Brush
Intended for both professional and at-home use, the Andis Premium Self-Cleaning Slicker Brush promises to do it all; brush, detangle, de-mat, and de-shed.
The tight metal weave pin brush captures loose fur easily and clings onto it, only releasing it when the eject button is pressed.
The ergonomic handle is comfortable to use, and the size of the brush makes dog grooming quick and easy. 
Pros
Eject button feature. No one loves cleaning up fur sheds, especially the short, thick dead hairs that come off of an AmStaff—having a brush that clings to the fur and releases when pressing an eject button makes for easy cleanup.
Great for brushing, detangling, and de-shedding. Again, the ability to have a one-stop brush is ideal and saves both money and clutter.
Made from premium materials. This brush is built to last based on my own experience and what I have read online. The ergonomic handle is easy to grip, and the brush quality is excellent.
Cons
Some dogs may hate metal brushes. Depending on dog breed and personality, some have a blatant hatred towards metal brushes. AmStaffs may benefit from the de-shedding properties of this brush, but they may hate the feeling of it.
Overbrushing with steel tips can damage the skin. The worry of using a metal brush on a single-coat dog is accidentally scratching their skin. If the brush is used lightly and not repeated over the same spot, metal brushes like the Andis Premium Slicker Brush are great to have on hand.
Ancol Soft Bristle Brush
If your staffordshire bull terrier is new to grooming or has been traumatized from harsher brushes in the past, it may be worth it to try the Ancol Soft Bristle Brush.
The nylon bristles easily remove dead dog hair and circulate natural oils for a glossy finish.
Nylon brushes are excellent for shorter coats because they won't accidentally damage your dog's skin.
Pros
A great "introduction to grooming" brush. The nylon bristles are very soft and gentle, making it a great option for your AmStaff pup's first groom. It is also gentle enough to brush sensitive areas like around the ears, face, and belly.
Nylon bristles are excellent at de-shedding. Just like a broom, this brush sweeps away loose hair. It is ideal for a single-coat dog.
Cons
Not effective at detangling or de-matting. The nylon bristles are far too delicate to work through tangles or mats.
Small surface area. I found the brush head to be a little on the smaller side, especially for grooming a medium or large dog like an AmStaff. I was not able to find this brush in a larger size.
Availability is limited. Based on online reviews and my own experience, this brush is only available online in North America. Online demands means that the brush is often out of stock. 
Delomo Grooming and Deshedding Gloves
If you are a fan of grooming gloves, the Delomo Grooming and Deshedding Gloves are worth trying.
With 255 rubber tips, the Delmo dog grooming Glove will massage, brush, and de-shed practically any coat type.
The rubber tips are soft and bendable, making them ideal for both dry brushing and bathing short-haired pooches like AmStaffs.
The gloves work with a spray of water on the glove surface before combing, causing loose hair to cling to the glove.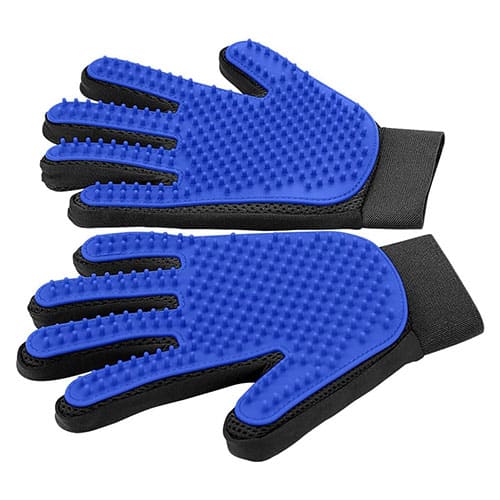 Pros
Keeps loose hair in place while grooming. Dampening the glove before use reduces static while brushing your dog, and the 255 nodules lock the hair into place. When done, you simply peel or rinse the hair off of the glove.
No harsh chemicals. Delomo promises that their gloves are made with eco-friendly products that won't damage your pet's skin or fur.
Works as a gentle massager. Compared to some other glove brushes, these rubber nodules are soft and bendable, lending to a nicer massage.
Cons
Not recommended for mats or tangles. Like all other glove brushes, they are not recommended to detangle or de-mat. I would say that the Delamo brush is even more gentle than the HandsOn brand, so it would have a much harder time with tough fur.
Gloves are not as form-fitting. Compared to other glove brush options, these gloves are a bit more stiff and shaped bigger. For smaller hands, it may be a bit awkward to use, but larger hands may not have this issue. 
Conair PRO Pet-It Boar Brush
For an everyday brush, check out the Conair PRO Pet-It Boar Brush.
The handle-free design has a grip that slides between the fingers, so the brush is in your palm, so dogs that fear a traditional brush are much more at ease.
The brush comprises 50% boar and 50% synthetic bristles and promises to offer a good, soft brush that whisks away dirt and distributes oils.  
Pros
Medium-soft bristles. The mixture of stiffer boar and softer synthetic bristles effectively brush out dirt while still being gentle enough for a single-coat dog like the staffordshire bull terrier.
Price. The Conair PRO Pet-It grooming brushes is priced very well and can fit into any budget.
Availability. I found this brush available at multiple pet stores, big box stores, and online retailers.
Cons
The grip design is uncomfortable. With the grip resting between the middle and pointer finger, I found it became painful after a little while. The brush is small, and so is the space for your fingers, so I would imagine it would be challenging for those with bigger hands.
It is not intended for de-shedding, detangling, or de-matting. The Conair PRO Pet-It Brush is advertised as an everyday brush for overall coat health. Hair can get trapped in the boar bristles, so if you overly-brush or your AmStaff is a heavy shedder, you will need to clean out the brush after each use. The bristles are also not still enough to work through mats and tangles.
Final Thoughts
After looking at multiple wire, rubber, nylon, boar, and gloved brushes, the best brush for an American Staffordshire Terrier is the Hartz Groomer's Best Combo Brush.
This brush is affordable for any budget and offers a variety of dog grooming features: de-matting, detangling, de-shedding, and regular brushing.
The Hartz brush is also an excellent choice for single-layer, short-haired dogs like AmStaffs as the bristles are not too lengthy and won't damage the skin.
You will be surprised at the brush quality and its price, so show your AmStaff some love and give it a try!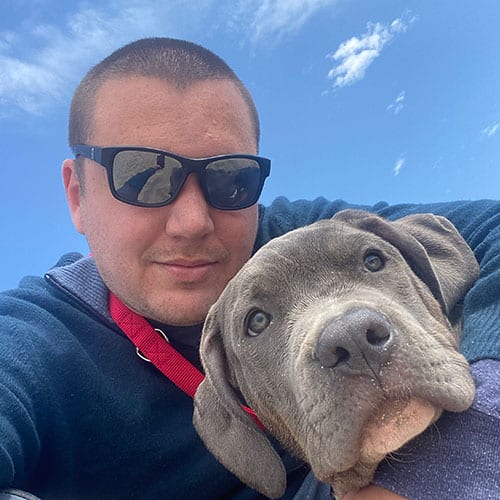 I created this blog to share my passion for bullies, and help current and future pitbull owners with things like diet and education.
Hope you find it useful, don't hesitate to drop a comment on my articles!