This article may contain affiliate links, and I will be compensated if you make a purchase after clicking on my links (at no additional cost to you)
As the owner of an extra large American Bully, I know more than anyone that these playful creatures love nothing more than splashing in puddles and rolling in the mud — and sometimes it's difficult to keep these cuddly fellows clean.
If you own an American Bully, you likely know exactly what I'm talking about. Fortunately, I've tried several dog shampoos and many do a great job of keeping active American Bullies squeaky clean and smelling fresh.
The best shampoo for an American Bully is one that has neutral or low pH. The shampoo should be gentle on the skin and keep their coats moisturized and soft.
If your American Bully has allergies, skin wounds, or is recovering from a flea infestation, you'll need a specially formulated dog shampoo.
After trying and testing several brands of shampoos for my XL Bully Oso, I feel like somewhat of a dog shampoo connoisseur.
I recommend Vet's best allergy and itch relief shampoo for dogs with allergic tendancies (most blue or tri blue american bullies), and Frisco Oatmeal Shampoo with Aloe for most american bullies as it is natural,s mells good and costs less. PetPotion Balance Waterless Shampoo is also a great solution if your bully hates showers like mine.
In this article, I'll list the best general shampoos for American Bullies, provide suggestions for dogs with allergies and skin infections, and I'll list some excellent brands for American Bullies with smelly skin or fur. Read on to learn more, make sure your dog smells good and keeps a healthy skin.
General-Purpose Shampoos for American Bullies
General-purpose shampoos for American Bullies should cleanse without stripping the coat of its natural moisture. As most American Bully owners know, these dogs often suffer from skin conditions including eczema and seborrhea.
Eczema is marked by itchy, dry patches of skin that may appear red or flaky, while seborrhea may cause dry or excessively oily skin.
Although caring for and grooming an American Bully is typically a low-maintenance job, the tendency for them to experience skin problems may make grooming a bit more challenging.
Fortunately, most general purpose dog shampoos have moisturizing properties. General purpose shampoos should be gentle enough not to irritate sore skin, cause itchiness, or aggravate allergies.
Here are some of my recommendations for all-purpose shampoos for American Bullies:
If you are after a product that offers value for money, consider Pro Pet Works Oatmeal Pet Wash Shampoo.
It is a concentrated formula, and a few globs go a long way.
What is more, it also conditions your pet's fur deeply, thereby giving you more bang for your buck.
This shampoo from Pro Pet Works contains natural ingredients like oatmeal, almond oil, aloe vera, and vitamins A, D, and E that hydrate and condition the skin while replenishing its natural oils.
The ingredients are blended to create a pH-balanced product that is gentle on your pet's skin. 
The shampoo also soothes irritated skin and is completely safe for use on dogs with allergies (unless they're allergic to grains), flea bites, and sensitive, itchy skin. It also leaves a lingering refreshing scent on your pet. 
I feel that it's an ideal choice for American Bullies without allergies. The addition of vitamins and almond oil are sure to leave your furry friend's coat looking and feeling incredible!
The Vets Preferred Oatmeal Dog Shampoo, available on Amazon, is a powerhouse performer. It combines five actions in a single wash—deep cleans, conditions, moisturizes, deodorizes, and detangles.
The shampoo is made with natural ingredients, such as oatmeal, coconut, and aloe vera, that do not harm or irritate the skin.
With regular use, your pet's coat will be healthy and sport a shinier look. 
I recommend this product to my American Bully owner friends who have pups without grain allergies. My American Bully, however, suffers from grain allergies, therefore, we've stopped using any and all products that contain them.
If your pet is allergic to cereal grains, avoid using products that contain oats, wheat, rice, corn, barley, sorghum, rye, and millet. With that said, this shampoo works wonders on American Bullies that do not suffer from grain allergies.
The Earthbath Shed Control Shampoo is a potent blend of antioxidants and moisturizers. It contains shea butter, green tea leaf extracts, ginseng, omega-3 fatty acids, and awapuhi.
These ingredients remove toxins from the skin and provide rich nourishment.
Afterward, your pet not only flaunts a clean coat but also one that smells fresh. Regular use of this shampoo controls hair shedding, dander, and allergies.
The myriad benefits of using the Earthbath Shed Control Shampoo come without adverse side effects like excessive dryness, irritation, and allergic reactions.
What I love most about this general purpose dog shampoo is that it's completely grain free. It's a soap-free, pH-balanced product specially formulated for canine coats.
Just as you use specialized baby products for your child, your American Bully puppy too needs grooming products specially formulated for its soft, sensitive skin.
The Burt's Bees Puppy 2-in-1 Shampoo is available from Chewy. It's a tearless product that is safe for your energetic, wriggly fur baby.
It is made with 97% natural ingredients, such as buttermilk and linseed oil, that clean deep and moisturize and condition the skin.
The shampoo is based on a pH-balanced formula that does not harm your pup's delicate skin. The result is a heavenly-smelling puppy with a soft, silky coat and a joy to cuddle.
Burt's Bees products are a favorite of mine — for both human and canine! It's not often that you find a shampoo and conditioner for your American Bully friend, so this is a win for sure. It's soft, subtle scent is light and natural, making your pup ready for all the cuddles!
Shampoos If Your American Bully Has Allergies Or Skin Infections
I know first-hand the frustration that comes with skin issues among American Bullies. My canine companion has suffered from food allergies as a puppy, developping skin rashes and bumps.
Before we changed his diet and began avoiding products with allergenic ingredients (see my american bully food guide) , he was very itchy. It was awful to see our fur baby so uncomfortable, constantly licking and scratching.
If your American Bully suffers from skin allergies or wounds and infections from excessive licking and scratching, you'll need to invest in a gentle shampoo that won't further irritate the skin. Look for a dog shampoo that's free of harmful chemicals or ingredients that may dry out the coat (i.e., denatured alcohols, parabens, etc.).
Below are some of my recommendations for shampoos: 
The Arava Natural Medicated Dog Shampoo, available on Amazon, is a powerful product formulated to heal ringworms, mange, scrapes, and several other painful and uncomfortable skin conditions in American Bullies.
The shampoo is made with 28 active ingredients, such as aloe vera, chamomile, flax seeds, argan oil, tea tree extract, evening primrose, and several deep-sea minerals. 
The Arava Natural Medicated Dog Shampoo is lightly scented, and regular usage can make your dog's coat soft, thick, and shiny. 
I love that this shampoo doubles as a first-aid application for hot spots! Not only that, but it prevents the growth of bacteria, fungi, and yeast to reduce itchiness without drying out your dog's skin.
The Curaseb Chlorhexidine Shampoo, also available on Amazon, is a mediated product often recommended by veterinarians for American Bullies suffering from allergies and skin infections.
It contains powerful antimicrobial agents like chlorhexidine and ketoconazole that work against ringworms and pyoderma.
It does not irritate the skin and hence, can be used if your dog has sensitive skin. The shampoo also fights odor. 
Antimicrobial agents are so important for American Bullies with irritated skin or open wounds to prevent infection. Give this one a try if your dog's skin has seen better days.
Skin infections and allergies in American Bullies often leave them with itchy, dry skin that is painful and uncomfortable.
The Vet's Best Allergy Itch Relief Shampoo, available from Chewy contains oatmeal, tea tree extract, neem oil, and chamomile that removes allergens and soothes irritated skin. You can use this shampoo for bathing your pet regularly or when allergies flare up.
The smell of this shampoo is incredible! The first ingredient is citrus rind, which gives it a lovely citrus-scent — not that harsh, medicated odor that so many of us are used to with dog shampoos.
I recommend the Vet's Best Allergy Itch Relief Shampoo for American Bullies that are prone to seasonal allergies. However, keep in mind that if you use this product, you should continue providing your dog with any vet-prescribed antihistamines unless they tell you otherwise.
This USDA-certified shampoo, available via Amazon, contains Manuka honey, which is a powerful antibacterial and antifungal agent that fights skin infections.
It is based on a formula approved by a veterinarian, so it is effective as a healing product and is safe for your fur baby.
If your dog has infections, there may be open wounds or sores on its skin. The skin may be inflamed and itchy as well.
It would be best if you used a shampoo that heals without irritating the skin.
The BotaniVet Manuka Honey Pet Shampoo is an alcohol-free, sulfate-free, toxin-free, and non-GMO product that is gentle on your dog's sensitive skin. 
Perhaps the best thing about this shampoo, in my opinion, is that you can use it even if your American Bully has no skin issues whatsoever. Regular use will help keep your furry friend's coat healthy and shiny. Additionally, if you're an eco-conscious individual, you'll love that this product is made with natural ingredients and is biodegradable. 
Recommended Shampoos for Fleas and Ticks
Before we dive into the best shampoos for American Bullies with fleas and ticks, it's critical that you have your canine companion on some kind of preventative medication.
Fleas and ticks can cause illness and disease in American Bullies and all other breeds, so as a responsible pet owner, you need to do everything you can to prevent these pests from taking up residence on your furry friend.
If your pet currently has problems with ticks and fleas, you'll need to get rid of them immediately. Ticks and fleas in American Bullies lead to itchy skin, fur loss, and unpleasant odors.
If left untreated, an infestation can make your dog sick because fleas can cause some bacterial infections, and ticks can cause severe issues including Lyme Disease.
Also, dogs with fleas and ticks tend to lick, scratch, and bite the affected areas incessantly, causing infections and even skin cancer.
Shampoos to manage tick and flea infestation in American Bullies should contain potent antimicrobial agents to kill ticks and fleas and prevent infections while being sensitive to skin that may be sore or has open wounds. 
Below are some of my recommendations for the best shampoos for American Bullies with ticks and fleas. 
This shampoo, available from Chewy, has been specially formulated for dogs with sensitive skin. It contains an insect growth regulator (IGR) that kills adult flea and flea larvae and prevents re-infestation for up to 28 days. The shampoo also kills lice and ticks. 
Despite being a powerful pest killer, the Adams Plus Flea & Tick Shampoo is gentle on your dog's skin. It contains soothing and moisturizing ingredients like oatmeal, lanolin, aloe vera, and coconut that also leave a lingering scent on your pet for a long time.
This product can only be used on American Bullies that are 12 weeks of age or older. 
IGRs are so important when choosing a flea and tick shampoo — they help stop the life cycle in its tracks, making it easier to rid your pet and home of an infestation.
The Healthy Breeds Dog Oatmeal and Aloe Shampoo is found on Amazon, and is specially formulated for American Bullies recovering from flea infections.
You can safely use the shampoo alongside topical flea treatment products.
It is a powerful and effective product that prevents itchiness, while its mild, soap-less formulation does not dry out the skin.
It contains vitamins and oatmeal and is pH balanced. It does not cause allergies and is safe for scaly and sensitive skin.
Keep in mind, however, that this product does not prevent fleas or ticks — it's to help your American Bully heal post-infestation. I highly recommend this shampoo once you've gotten rid of fleas or ticks to help your doggy friend's skin heal.
This EDA-approved shampoo is available from Chewy, and contains several powerful oils, such as clove oil, cedarwood oil, sesame oil, and lemongrass oil, which are known to kill ticks and fleas.
The ingredients are so potent that the shampoo shows positive results in just seven days, and the effects last for a long time.
The shampoo is made from all-natural ingredients and does not contain pyrethrin or permethrin that can harm sensitive skin. The soap-free formulation is ideal for sore or open skin, a common side effect of ticks and fleas infestation. 
You can buy a spray kit with the TropiClean Natural Tick & Flea Soothing Shampoo to make it easy for you to apply the solution on your energetic, furry baby who does not seem to know how to stand still. However, this shampoo is only for dogs that are aged twelve weeks or more.
Unlike other flea and tick shampoos on this list, this one doesn't contain any IGRs, therefore, it is unlikely to stop the life cycle of ticks and fleas. You'll need to make sure that you comb your dog with a flea comb to remove any eggs in his fur. Remember to check around the neck, behind the ears, under the limbs, and at the base of the tail.
Shampoos for American Bullies To Fight Bad Smell
American Bullies are active dogs. They love splashing about in water puddles, rolling in the mud, and diving in leaf piles.
They get dirty, and often their coats start to give off an offensive odor — trust me, I've experienced it first hand as an American Bully owner! It's not pretty!
A smelly dog is no fun to roll around or cuddle with — unless you want to end up smelling like him, too!
To prevent this, you'll want to check out one of these shampoos that work wonders for getting rid of odors in American Bullies!
If your American Bully is letting off an offensive odor, you'll first want to ensure that it's from an environmental source.
The offensive odor on American Bully's coat may not always be dirt or mud. Often, dogs smell because they have a bacterial or fungal infestation on the skin.
Bathing your pet with a deodorizer shampoo only helps in the short term. To get to the root of the problem, you must kill any ticks, fleas, bacteria, yeast, or fungi.
The PetHonesty Chlorhexidine Antibacterial Cleansing & Odor Remover Dog Shampoo from Chewy is specially formulated with 2% chlorhexidine and 1% ketoconazole to kill bacteria and fungus. The shampoo soothes itchy and red skin and heals hot spots, bug bites, and rashes.
This product works amazingly well but that's not the only reason that I recommend it. It has a lovely cucumber melon scent that leaves your American Bully smelling fresh after every bath.
The PetPotion Balance Waterless Shampoo for Dogs from Amazon contains apple cider vinegar that neutralizes odors rather than merely masking them, thereby making for a sustainable solution.
The shampoo also contains an assortment of fragrant essential oils that leave behind a lingering scent.
The coconut oil and shea butter in the shampoo detangle your dog's fur and moisturize flaky skin.
This is perhaps one of my favorite shampoos for active, wiggly dogs that never want to sit still. If your American Bully thinks of bath time as a nightmare, then this is the product you'll want on your bathroom shelf.
It's applied via a spray nozzle and doesn't require rinsing — just wipe it off with a dry or wet towel or cloth. This makes it ideal not only for hyper dogs, but also senior dogs that find bath time a bit more challenging than in their younger years.
The PetPotion Balance Waterless shampoo is non-toxic and can be used regularly. 
This product from Buddy's Best is available on Amazon, and works instantly to bust odors and keeps your American Bully smelling fresh for days.
The shampoo does not cause allergies, soothes itches, and is made with ingredients that are safe for sensitive skin.
It contains oatmeal and coconut vanilla bean that moisturizes the skin and keeps the fur looking healthy and shiny. 
Keep in mind that this one contains oatmeal — don't use it on American Bullies with grain allergies. With that said, this is a must-have for dogs with no allergies and for owners who don't have time to regularly bathe their American Bullies.
How Frequently You Should Bathe an American Bully
Bathe your American Bully once every eight weeks. If your dog has an odor or a dirty, oily coat, bathe it as soon as possible — but don't bathe too often! This strips the skin of its natural oils. These oils form a protective layer, and without them, dogs are more prone to allergies and infection.
Keep the following pointers in mind to make bath-times safer for your American Bully and convenient for you:
Choose a shampoo that meets your dog's unique requirements. You must be especially mindful when buying a grooming product if your pet suffers from skin infections or has allergies.




Gather the bath supplies and keep them within easy reach so that you do not have to leave your pet unattended.




Keep towels handy to dry your dog and cover the floor so that there are no slips and falls due to dripping water.




Use a wet washcloth to clean your dog's face to avoid getting the shampoo in its eyes and ears.




Have treats handy if your pet is not too fond of bath times.




Use lukewarm water for bathing your dog. Hot water can scald the skin and dry out the coat quickly. Water that is too cold is uncomfortable, especially during the colder months.




Check your shower nozzle to ensure that it spouts a gentle but direct stream of water. A strong blast of water can be painful for your dog, especially if it has sores or open wounds on its skin.




Make sure that you work the shampoo well into the coat. Do not forget to clean its belly, legs, and tail.




Rinse your pet from the neck backward to ensure no water gets into its eyes and ears.




Do not rub your dog vigorously while drying it. Do not use a blow dryer; it can cause injuries and burns.




Hand your pet treats after you have bathed and toweled it dry to create in its mind a positive association with the bathing experience.
You can turn bath-times with your American Bully into a positive, bonding experience. You need patience, gentleness, and an understanding of what is comfortable or uncomfortable for your four-legged companion. 
Final Thoughts
American Bullies are unique breeds with unique body compositions and temperaments. But like all other breeds, they need regular grooming and extra care if they develop skin conditions. 
Choose a shampoo that addresses its specific needs. Ensure that you buy products that are gentle on your pet's skin. If you must use a medicated shampoo, ensure that it can manage an issue without aggravating another skin condition.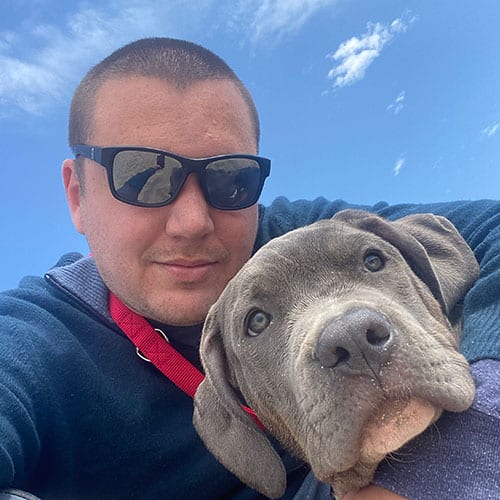 I created this blog to share my passion for bullies, and help current and future pitbull owners with things like diet and education.
Hope you find it useful, don't hesitate to drop a comment on my articles!