This article may contain affiliate links, and I will be compensated if you make a purchase after clicking on my links (at no additional cost to you)
Pitbulls require a lot of grooming to keep their coats clean and in good condition. It's important to brush your Pitbull regularly to avoid infections, allergies, and various other skin conditions.
For this reason, you want to be sure you're brushing your pitbull with the best brush possible. 
The best brush for pitbulls is the Furminator Dual Grooming brush. Combining both pins and bristles, it massages, removes dead hair, softens fur, and grooms your Pitbull  effortlessly. Not to mention, it's a quality product that's both durable and easy on the wallet. 
Choosing the best brush for your Pitbull is an important decision because these brushes can make or break the health of your dog's coat. In this post, I've provided my top picks for the best Pitbull brushes on the market.
I'll also discuss the various types of brushes available, what factors to consider, and tips for how to properly brush your pitbull.
6 Best Brushes for Pitbulls
The following are some of the best brushes available for pitbulls. There's a range of options for you to consider so you can find the one best suited to fit your needs. (All the products listed here are available for purchase on Amazon.com).
When it comes to brushes for Pitbulls, most dog owners either opt for a pin brush or a bristle brush.
Well, what if I told you, dog owners can now purchase the FURminator Dual grooming brush, which combines both! 
FURminator's latest product features nylon bristles on one side and metal pins on the other. It's a ground-breaking invention that promises to save pet owners tons of money while allowing them to groom their pets with top-quality standards. 
You can use the metal pins to remove dirt, grime, and debris from your Pitbull's rough coat.
The metal pins can also massage your dog's skin and spread natural oils evenly through the coat. The nylon bristles can be used to soften fur and give the Pitbull a shiny look. 
Pros
Versatile use for both grooming and massaging 
Flexible bristles with a padded base provide added durability 
Easy to remove hair 
Great reviews and well loved by consumers 
Cons
Delomo's pet grooming gloves combine patting, stroking, and massaging with hair removal to create an innovative product.
Although it's not technically a brush, these gloves are great for de-shedding and softening your Pitbull's fur.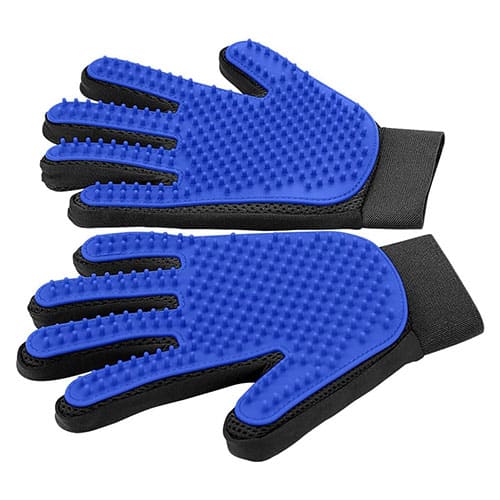 The gloves are a combination of microfiber and rubber material. This combination makes it easy to remove dirt, debris, loose hair, and other materials from your Pitbull's coat. It also includes a closure strap and elastic at the wrist for secure fit and comfort. 
This glove is designed with your pet's comfort in mind. Its robust and breathable mesh material makes it easy for the dog to feel comfortable and keeps your hands clean as well.
This product is great for Pitbulls that hate grooming sessions. Patting them and running your hands through their coat will relieve anxiety and make the grooming session bearable. 
Pros
Great for skittish Pitbulls, helps reduce anxiety 
Waterproof – can use to bathe your Pitbull 
Cheap and affordable but a high-quality product 
Comfortable for both large and small Pitbulls 
Cons
It can cause static when rubbed together 
Important to get the right size for your hand 
Difficult to remove hair 
The GoPets Pin and Bristle Brush is a great alternative for the Furminator Dual grooming brush mentioned earlier.
The brush has two types of bristles, one to remove the loose hair and mats and another to quickly massage the skin. 
The brush is designed with a massaging tip that's gentle enough for sensitive skin. The ergonomic shape reduces hand fatigue, and the durable design ensures extended use. GoPets Pin & Bristle Brush is the perfect tool for removing mats and tangles while stimulating your pet's scalp. 
The Bristle Brush is incorporated with an anti-static surface, making the hair less likely to tangle and more likely to stay put on the brush until you finish grooming it. Overall, it's a great product and a must-have for Pitbull owners. 
Pros 
The gel-filled silicone handle provides excellent grip
Allows for dual grooming 
Easy to remove hair 
Great for short and thick coats 
Cons
The gel-filled handle is known to leak at times
May not be the most comfortable of brushes 
Expensive 
No product has been more perfectly designed for Pitbulls than the Furbliss multi-use dog brush—an affordable grooming tool that helps remove loose fur, untangle your Pitbull's coat and massage its skin.
It not only helps your furry friend stay free of mats but also stimulates skin and hair follicles for a healthier coat.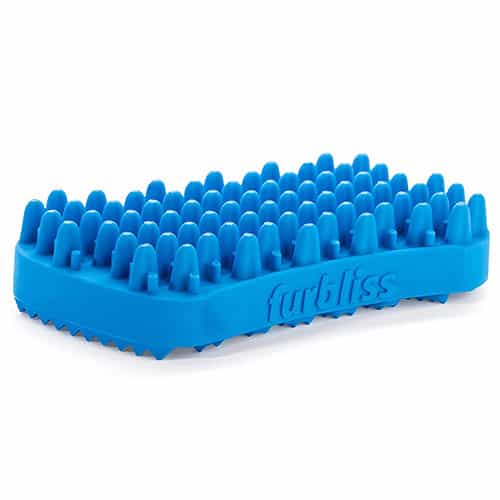 The brush promotes oil production and helps nourish fur and skin. You can also use it for bathing your dogs and collecting any excess hair that drops off. The medical-grade silicone provides durability to the product and makes it easier to clean once the grooming session is over. 
In short, this is an excellent all-in-one grooming tool for short-haired breeds of dogs, especially Pitbulls. 
Pros
Very comfortable for Pitbulls 
Waterproof – can be used to bathe your dogs 
Great for collecting loose hair 
Can remove hair from furniture as well 
Cons
A bit difficult to hold on to 
Small in size; won't be as efficient with larger breeds 
Highland Farms Select Wood Groom Brush is one of the best deshedding tools on the market. It offers an ergonomic wooden handle and stainless steel bristles designed to work on dense coats and tough fur.
This product is excellent for any dog in need of frequent grooming, like Pitbulls. 
The wooden handle and stainless steel bristles provide a gentle yet effective brushing experience. Long, gentle strokes can remove excess hair and dirt from your pet, while the durable material resists splinters. 
The unique rubber cushioning on the base of the comb allows for better grip and prevents the brush from slipping through your hand during use. This soft, flexible-bristle brush can be used to groom both wet and dry coats and is safe for all breeds of dogs. 
With its comfortable grip, you can groom your Pitbull for extended periods without feeling the strain on your wrists or hands. 
Pros
Extremely durable and non-slip 
Affordable 
Very comfortable 
Effortlessly removes dead fur, dust, and debris 
Cons
Not very effective for single coat Pitbulls 
Doesn't collect hair 
The FURminator Deshedding Edge Dog Brush is great for short-haired dogs. It features a curved design to provide maximum contact with your pet's body, making it easy to reach all parts of your dog's coat. 
The brush also includes a button to remove loose hair from its surface, making it easier to clean in between uses. This brush reduces shedding by 90%, making it perfect for Pitbulls. The Furminator deshedding tool works by removing the loose, thin, and dead undercoat hair from your dog's coat. 
The undercoat is what sheds seasonally and continuously year-round. This tool makes it easy to remove this undercoat without aggravating the top coat of your pet's fur, which would cause discomfort and poor health if left alone.
Pros
Curved design makes it easy to reach all parts of your dog's coat 
Includes a fur ejector button to quickly remove excess fur 
Very effective in grooming 
Has various options for different hair sizes 
Cons 
Hair can get caught in the edge 
Not comfortable 
Expensive 
Types of Pitbull Brushes
There are various types of brushes to consider for your pitbull, and each one is designed with a particular purpose or consideration in mind. 
Slicker Brush
The slicker brush is a medium to stiff brush with rows of bristles set in a rubber pad. The brush is used for grooming animals by removing tangles, mats, and loose hair from the pet's coat.
Slicker brushes aren't the best choice when it comes to Pitbull grooming because it hurts the dog's skin, and it's much harsher than other types of brushes. 
Bristle Brush
A bristle brush has bristles made of nylon. Bristle brushes can absorb and distribute natural oil and sebum on the skin, moisturizing it deeply. It gently exfoliates the skin, removing dead cells.
This type of brush is suitable for dogs with sensitive skin. Basically, it's the best option for Pitbulls. The best bristle brush will help you get rid of all those tangles and knots on your dog's coat. 
Pin Brush 
A pin brush is a brush with a tapered, cylindrical-shaped head. The bristles are very stiff and consist of round-headed pins. Pin brushes are used to groom the long hair of dogs, horses, and various other pets
. The stiffness of the bristles helps to remove dirt from deep within the hairs, which can't be done with softer brushes.
Deshedding Brush
Deshedding brushes are designed to remove loose hair from dogs. It's a much better option for Pitbulls because it doesn't pull at the hair like other brushes, which can tear the skin and cause discomfort for your pet. 
It's specially designed to help remove loose fur and dander from your pet's undercoat. It has a curved design to reach the hard-to-reach areas of your pet's coat and a pointed end that can be used to reach under their legs or around other sensitive areas.
Glove Brush
The glove brush is made from durable nylon. It consists of soft rubber bristles that won't hurt the dogs' skin. With a glove brush, you can pat and groom your pet simultaneously while also allowing you to reach difficult areas. 
The brush has an ergonomic design made to fit comfortably in your hand while you pet your Pitbull with it. Glove brushes are designed specifically for dog owners who want to keep the coat of their Pitbulls perfectly groomed, shiny, and healthy. 
Rake Brush
Rake brushes are generally used on dogs that have medium to long hair. A rake brush is a very stiff brush with bristles made of nylon or boar hairs. The main benefit of using a rake brush is it distributes the natural oils in the dog's coat effectively, giving it an attractive shine and luster.
Factors To Consider When Buying a Pitbull Brush 
Before you purchase a brush for your pitbull, take a moment to consider the following factors to ensure you get the best option for you.
Type of Brush
Brushes for dogs come in various shapes and sizes. The type of brush you buy depends on your Pitbull's coat and its length. 
The right brush for your Pitbull will help maintain its healthy coat while also ensuring excess hair doesn't get tangled in the brush. With a large variety of brushes to choose from, finding one best suited to your furry friend can be challenging. 
For most Pitbulls, a pin brush or a bristle brush will suffice. For dogs with longer and denser coats, I recommend a rake or deshedding brush. 
Pitbull Coat
If you have a short-coated Pitbull, you should buy a brush designed to groom hair without brushing it too hard. A bristle brush is perfect for this coat type because its fine bristles penetrate deep into the hair.
It can help remove any mats or tangles tucked away close to the skin level. 
If you have long-haired dogs, then you should purchase brushes with firm bristles to break up any mats and tangles in the longer hairs. Some brushes are made for specific types of coats, so it's best to do some research before purchasing one for your Pitbull. 
Comfort
The most crucial factor to consider when buying a brush for your Pitbull is comfort. A brush that hurts or irritates your dog should be avoided at all costs. The best brushes are made with flexible, natural bristles. Look for brushes with cushioned handles and soft bristles. 
Do Pitbulls Need To Be Brushed?
The short answer is "yes," you should brush your Pitbull's coat. This may seem like a simple and obvious thing to do. Still, it's surprising how few people actually take the time to perform this critical task for their dog's health. 
Pitbulls do need to be brushed because their coat is very important to their health and cleanliness. It's important to brush your pitbull on a regular basis to eleminate shedding. 
Pitbulls and other breeds of dogs with short hair and a thick undercoat can be brushed just like any other breed. 
For those looking for a reason to brush their Pitbull, consider the fact that regular brushing helps distribute natural oils throughout their coat and skin, and removing loose hair. Brushing also loosens dead hair from their fur, which, if left to sit, can lead to excessive shedding. 
Regular brushing also helps remove debris from under the dog's fingernails and other hard-to-reach areas like behind ears and between toes. 
Brushing Pitbulls: Single Coat Vs. Double Coat
A single coat is the most common type of Pitbull coat, sometimes referred to as a short coat or smooth coat. It consists of short, straight hair that lies flat against the body. This type of coat is the easiest to care for and takes very little grooming time. Single coat Pitbulls don't need to be brushed as often as long-haired dogs.
A double coat consists of two layers of fur, one longer than the other. The top layer typically consists of stiff, straight hairs called guard hairs. These protect the second layer, made up of a softer, more abundant undercoat. With two coats, brushing must be done twice in order to properly groom them. You'll also need a brush that can dig deep and straighten your Pitbull's undercoat. 
Tips for Brushing Your Pitbull
Even after buying the best brush you can find, it's important to follow a few simple guidelines when brushing your pitbull.
Don't Brush Too Frequently 
Pitbulls don't need to be brushed too often. They are low-maintenance dogs that rarely shed their coats. Matts and tangles are usually few and far between. Over-brushing won't really help your dog besides upsetting them. 
Be Gentle
As I've mentioned, Pitbulls have sensitive skin. With a single coat acting as a barrier between the stiff bristles and their skin, you don't want to exert too much pressure and cause any discomfort to your pet. To keep your dog comfortable, always brush down and out. 
Keep an Eye Out for Skin Infections and Other Health Symptoms 
When grooming your Pitbull, lookout for any signs of deteriorating skin health. Pitbulls are prone to allergies and various skin infections. If they're not brushed regularly, the hair will not lie down and will become matted. When this happens, it can lead to skin irritation and other health problems. 
Conclusion
When you have a dog as energetic and playful as a Pitbull, brushing them regularly is essential.
There are many different options available, so take the time to research the best brush for your dog's coat type and needs.
I hope this article about the best pitbull brush has been helpful to you and that you have a better understanding of brushes for Pitbulls.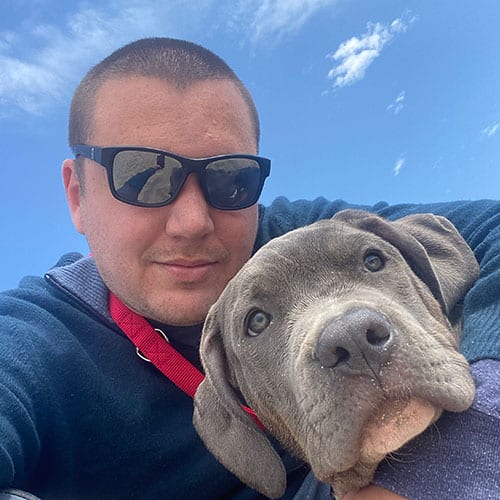 I created this blog to share my passion for bullies, and help current and future pitbull owners with things like diet and education.
Hope you find it useful, don't hesitate to drop a comment on my articles!