This article may contain affiliate links, and I will be compensated if you make a purchase after clicking on my links (at no additional cost to you)
Pitbulls are strong, energetic, driven, and determined, but these high-energy pooches are prone to skin issues, and have a tendency to get dirty, thanks to their love of playing.
If you want to keep your Pitbull's coat silky, shiny, and smelling good, then you need to choose a quality shampoo for your canine companion — the wrong shampoo can do the opposite, leaving your pet with a dull, dry, itchy coat.
The best dog shampoo for pitbulls is the Healthy Breed's Oatmeal and Aloe Dog Shampoo. This hypoallergenic shampoo cleanses, moisturizes, and deodorizes the pitbull's skin and coat. It's specially formulated explicitly for pitbulls.
The only instances in which I wouldn't recommend the Healthy Breed's Oatmeal and Aloe Dog Shampoo are if…
As the owner of an extra-large American Bully, I know first-hand what this breed is capable of when it comes to getting dirty. Therefore, I know a thing or two about dog shampoos — choose one that cleans and moisturizes the coat without damaging it. The rest of this article will discuss essential factors that you should consider when choosing a Pitbull shampoo, the different types of shampoo available, our top five best picks, and ingredients that you should avoid.
The Best Pitbull Dog Shampoos
Below, I've compiled a list of the best shampoos for pitbulls, based on my recommendations. Keep reading to find out which one will work best for you and your furry friend.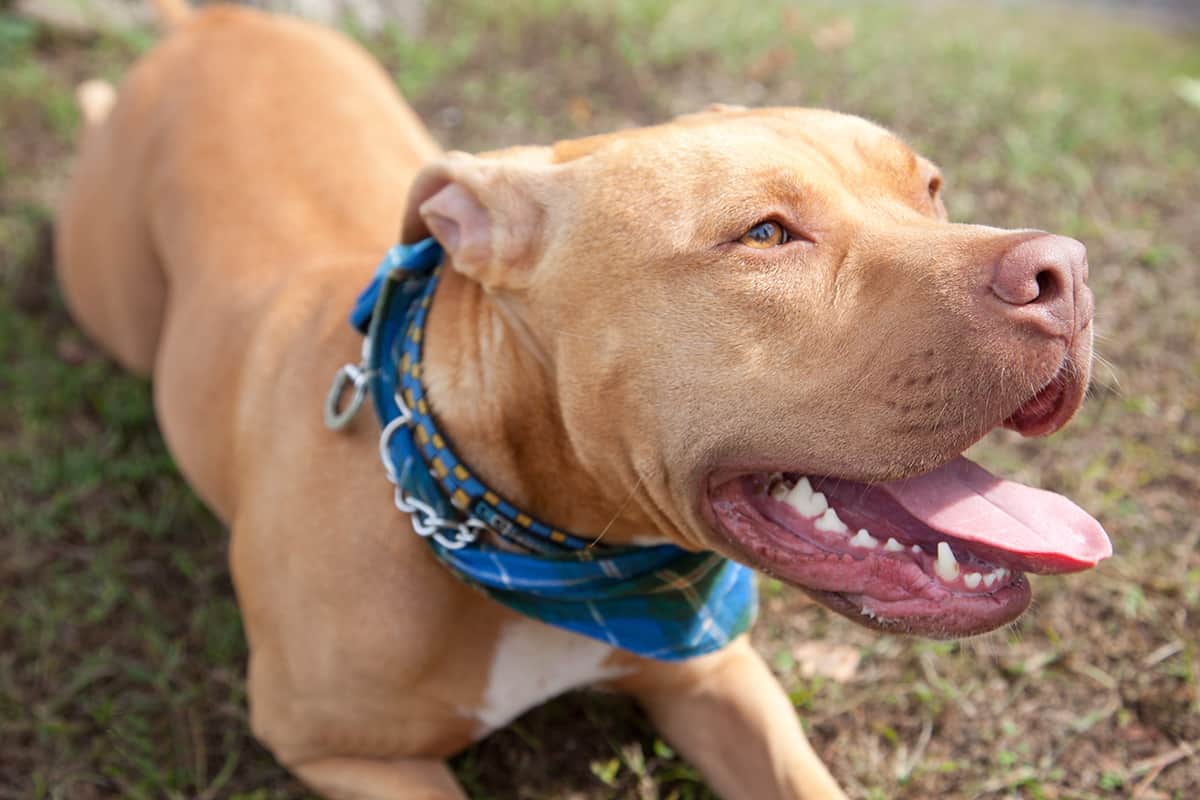 Created specifically for pitbulls, The Healthy Breed's Pit Bull Oatmeal & Aloe Dog Shampoo (available on Amazon.com) is formulated to cleanse and moisturize your dog's skin. This is one of the best Pitbull shampoos on the market, making it my number one pick!
This dog shampoo is hypoallergenic and pH balanced, so it will never irritate your pet's skin.
It also contains Aloe Vera extract, which makes it perfect for dogs with sensitive skin or allergies. 
The formula is free from harsh chemicals, so you won't have to worry about your pup having itchy skin after its bath.
Best of all, it has a long-lasting fragrance to help remove excess odor buildup. 
Pros
Natural ingredients such as Oatmeal and Aloe

Free from Alcohol

Coconut fragrance

Made for Pitbulls
Cons
The scent may be a bit too strong 
Bottom Line: This is the best general purpose dog shampoo for pitbulls. I love that it's formulated specifically for pitbull coats and skin.
There's nothing better than Burt's Bees For Dogs Natural Oatmeal Shampoo (available on Amazon.com) when it comes to flea prevention.
With its flea-fighting formula, this shampoo has been designed to control and relieve flea infections. Natural ingredients such as Shea butter and oatmeal also help soothe skin and prevent further infections.
Since it's a mild shampoo, you can also use this to bathe your puppies without having to worry about any harsh chemicals. The shampoo is hypoallergenic, pH balanced, and comes with an excellent scent for deodorizing bad smells. 
Pros
All-natural ingredients

Best for Pitbulls with allergies and infections

Both shampoo and conditioner

Soap-less and tear-free
Cons
The fragrance isn't long-lasting and might be too subtle for some users

Doesn't lather very well
Bottom Line: Flea infestations are a drag — and they cause painful bites on your pooch! To get rid of fleas, use this shampoo in combination with a carpet and upholstery spray that utilizes an IGR. And don't forget to comb your dog with a flea comb to remove any eggs!
Pro Pet Works Organic Shampoo is another excellent product that helps deal with allergies and infections. Its hypoallergenic formula and all-natural ingredients provide a soothing and moisturizing experience. There are no artificial ingredients or any harsh chemicals you should worry about. 
The shampoo helps restore your pitbull's natural oils and is excellent for dry, itchy, and sensitive skin.
As an added bonus, the 16 ounce (500mL) bottle will last you for a good couple of months.
To top it off, you get a pleasant fragrance to deodorize your pet – this is definitely one of the best all-around solutions for your pet. 
Pros
Concentrated solution

Both shampoo and conditioner

Large bottle size will last you for months

Sweet cherry scent great for deodorizing 
Cons
Difficult to rinse

The fragrance is a bit subtle, doesn't last long either
Bottom Line: Many users complain that the product is somewhat difficult to rinse out due to the concentration of the formula. I highly recommend using a lot of water and a shower head when washing your dog with this shampoo — and remember, a little goes a long way!
Best Gentle Option:
Paws & Pals
Natural Oatmeal Dog Shampoo
When it comes to shampooing your pitbull's coat, you want to choose the gentlest option possible—but you also want one that leaves their coat clean and smelling fresh!
Paw & Pals Natural Oatmeal Dog Shampoo is made with moisturizing Aloe Vera and Shea butter for a rich lather that will leave their coat feeling luxuriously smooth and silky. 
The tear-free formula creates a gentle lather without the worry of soap in your pet's eyes or nose. The moisturizing shampoo provides an additional layer of hydration and protection. This shampoo also has allergy blockers to keep your pet from getting any further allergic reactions. It leaves a delicate natural aroma that your pets will love.
Pros
Nourishing formula

The tear-free formula makes it a good option for puppies 

Great fragrance due to natural ingredients
Cons
Not easy to rinse

Hydrolyzed protein may not be suitable for some Pitbulls 

Expensive
Bottom Line: If your dog is afraid of baths or is extra sensitive to different soaps, then this is the best option. It won't burn your furry friend's eyes if it happens to drip in. Additionally, it contains allergy blockers to help prevent any allergens from aggravating his freshly washed skin and coat.
Best for Pitbull Allergies:
BotaniVet
Certified Organic Manuka Honey Pet Shampoo
BotaniVet Certified Organic Manuka Honey Pet Shampoo is a toxin-free, alcohol-free shampoo that is great for Pitbulls.
It helps to keep your pet's skin healthier and balances it out.
The natural honey in the shampoo acts as an antibacterial agent for their scalp. It helps them look healthier and prevents bacteria from forming within their ears and on any cuts or wounds they might have.
Pros
Natural Ingredients such as Manuka honey

Non-toxic, non-alcoholic, with no sulfates 

Recommended by veterinarians 

Suitable for both cats and dogs
Cons
A bit expensive

Difficult to rinse 
Bottom Line: I love this dog shampoo! It contains absolutely no grains and helps keep your dog's skin healthy and balanced. The honey used has antibacterial properties to promote wound healing and keep your pet looking and feeling great!
Factors To Consider
There are three main factors to consider when searching for the best shampoo for your Pitbull pal:
Hair Type and Breed

Skin Condition and Odor

Ingredients and Formula Concentration
I'll explain each of these factors in detail below:
Hair Type and Breed
| | | |
| --- | --- | --- |
| Dog Shampoo | Formulated for Pitbulls? | Score  |
| Healthy Breed's Pit Bull Oatmeal & Aloe Dog Shampoo | Yes | 10/10 |
| Burt's Bees For Dogs Natural Oatmeal Shampoo | No | 1/10 |
| Pro Pet Works Organic Shampoo | No | 1/10 |
| Paws & Pals Natural Oatmeal Dog Shampoo | No | 1/10 |
| BotaniVet Certified Organic Manuka Honey Pet Shampoo | No | 1/10 |
Winner: Healthy Breed's Oatmeal and Aloe Dog Shampoo
The first factor to consider when buying pitbull shampoo is the type of hair and breed it will be used for. As with humans, different hair types need different hair products, so make sure that the shampoo is appropriate for your pitbull's hair type!
These cuddly canines are a unique breed. They have a single coat, with the undercoat being dense and fluffy, while the outer coat is short, straight, and glossy. This type of coat requires a specialized shampoo that moisturizes the undercoat, while leaving the outer coat manageable.
Some pitbull's, like my American Bully, have a characteristic coarse, wiry texture that's low in healthy oils — this may contribute to dry skin. I highly recommend choosing a shampoo with conditioning properties to maintain the health and vitality of your dog's fur.
Skin Condition and Odor
Dog Shampoo
Skin Benefits
Score 

Healthy Breed's Pit Bull Oatmeal & Aloe Dog Shampoo

Soothes dry, itchy skin

Hypoallergenic

6/10

Burt's Bees For Dogs Natural Oatmeal Shampoo

Soothes dry, itchy skin

Safe for regular use

6/10

Pro Pet Works Organic Shampoo

Made for sensitive skin

Heals and moisturizes

Antimicrobial

Antibacterial

9/10

Paws & Pals Natural Oatmeal Dog Shampoo

Hydrates dry, itchy skin

Heals and protects

Contains vitamins

Made for sensitive skin

9/10

BotaniVet Certified Organic Manuka Honey Pet Shampoo

Soothes dry, itchy skin

Promotes skin health

Promotes wound healing

Natural solution for dogs with allergies

9/10
Winners: Paw & Pals Natural Oatmeal Dog Shampoo, Pro Pet Works Organic Shampoo
While pitbulls are not genetically predisposed to any particular skin type, they seem more likely to have eczema or seborrhea — and both are quite opposite of one another.
Eczema causes dry, itchy, irritated skin that may flake off, whereas seborrhea often causes excessively oily skin. However, seborrhea may eventually lead to flaking as well.
External factors may also affect your pitbull's skin type. They can be exposed to different types of skin conditions, such as those caused by external parasites, allergies, bacterial infections, or pancreatitis. These conditions can cause a foul odor on the dog's skin.
I tell all dog owners to pay attention to their dog's skin and coat. It's so important to know what type of skin condition your dog has. If your pitbull has a problem with dry, flaky skin, you'll need to look for a shampoo that specifically addresses those problems.
Also, if there's an odor coming from your beloved pitbull pal, then you'll want to first check with a veterinarian to rule out any medical problems (i.e., fungal infections, yeast infections, etc.). If you find that it's just your dog's natural odor that's so offensive, look for a shampoo that helps keep those odors at bay.
Ingredients and Formula Concentration
Dog Shampoo
First Three Ingredients
Score 

Healthy Breed's Pit Bull Oatmeal & Aloe Dog Shampoo

Concentrated Surfactant Blend (detergent and soap-free)

Aloe Vera

Vitamins A, C, D, E & F

8/10

Burt's Bees For Dogs Natural Oatmeal Shampoo

Water

Coco Betaine

Coco-Glucoside

9/10

Pro Pet Works Organic Shampoo

Deionized Water

Surfactant Blend (derived from natural derivatives)

Aloe Vera Extract

8/10

Paws & Pals Natural Oatmeal Dog Shampoo

Water

Disodium Laureth Sulfosuccinate

Cocamidopropyl Betaine

4/10

BotaniVet Certified Organic Manuka Honey Pet Shampoo

Organic Saponified Coconut

Olive (Olea Europaea Fruit)

Jojoba (Simmondsia Oils)

9/10
Winners: Burt's Bees All Natural Oatmeal Shampoo, BotaniVet Certified Organic Manuka Honey Pet Shampoo
My American Bully loves to play outside all day, even when it's raining. And on those days, well, let's just say that there's often plenty of dirt wedged in his coat! Simply washing it off doesn't always help — I often need something more concentrated to pull out all of that gunk.
This is where shampoo concentration comes into play. Concentrated pitbull shampoos provide deep cleaning properties to break through tough dirt and grime. These shampoos do more than just clean your canine companion's coat — it also provides hydration to the skin and removes any excess oil.
Keep in mind, however, that using highly concentrated formulas should be kept to a minimum. These are made for deep-cleaning your dog's fur only and are not gentle enough for everyday use.
If your dog has allergies or sensitive skin, you'll want a mild, gentler shampoo. These are easy on the skin and safe for regular bathing. They're ideal for dogs that don't need as much cleansing as other dogs, or for those baths in between "deep cleaning" baths.
Mild shampoos are especially good for dogs that are fighting fleas, as they won't irritate any current bites. Just make sure that you're combing through your dog's fur with a flea comb to remove any eggs!
Additionally, you'll want to avoid ingredients that may aggravate your dog's allergies if it has them. It's essential that you know what type of allergies your pitbull has so that you can specifically avoid those ingredients. For example, a dog with grain allergies shouldn't be bathed with a shampoo containing oatmeal.
Types of Pitbull Shampoo
General Purpose. These are designed to clean and condition your dog's coat without stripping natural oils or moisture. General-purpose shampoos are great for all breeds of dogs. They are best for people who want to save money by not purchasing different shampoos.

Puppy. You can find shampoos formulated specifically for young puppies. When it comes to Pitbulls, you want a shampoo formulated for dogs with sensitive skin. There are many brands of puppy shampoo on the market today so take your time to find one that suits your pup's needs best.

Medicated. Medicated shampoo is used to treat medical conditions in dogs, specifically issues such as allergies or skin irritations. It contains natural ingredients like tea tree oil and coconut oil that can be effective against bacteria and infections.

Deodorizing. While pit bulls are adorable and loyal pets, their doggy odor can be a bit too strong at times. If your dog is one of those smelly ones, you should know that deodorizing shampoos are available on the market. Deodorizing shampoo is formulated with ingredients that help eliminate odor using a combination of antiseptic, antibacterial, and antifungal agents.

Flea-Fighting. Flea bites do not only cause itching but can lead to other problems like flea infections. This can get really bad if left untreated. Flea-fighting shampoo is a type of shampoo that helps eliminate fleas from a dog's fur and skin. It also provides relief from flea infections.

Benzoyl Peroxide.

Pitbull shampoos and a medicated dog shampoo

are often used for treating skin allergies

and

skin conditions. The best dog shampoo

contains Benzoyl Peroxid, the active ingredient that treats acne-prone skin by killing bacteria.
What To Look For in Pitbull Shampoos
Some of the most important things to look for when you're looking for that ideal shampoo for your pitbull pal include the following:
Natural Ingredients
Any good pitbull shampoo should be made with natural ingredients. There are many reasons to look for natural ingredients in your pitbull shampoo, but the most important one is that they are not harmful to your dog. In general, natural ingredients do not contain any toxins that could harm your pet.
Some of these ingredients like aloe vera shampoo and essential oils can also provide a number of benefits for canine hair and skin, such as reducing the risk of irritation and itching. Aloe Vera has been used for centuries to treat various dermatological conditions, including inflammation and sunburns. Oatmeal is a natural ingredient with many benefits too! 
Good Fragrance
It is crucial to find a pitbull shampoo with a good fragrance. Your dog is going to walk around all day, and the last thing you want is for them to smell bad. The best fragrances are the ones that are long-lasting which means you don't have to reapply them as often. Good smelling shampoo also minimizes odor buildup, ensures a healthy skin and helps mask that "funky" smell from most Pitbulls. 
Flea Prevention Formula
Flea shampoos are usually formulated with a special concoction that not only cleans your dog's coat but also helps prevent fleas from sticking to it. 
Another reason why you should look for a flea-prevention formula in your pitbull shampoo is that it contains lavender, which works as a natural insect repellent. Lavender has been proven by scientific studies to have the ability to ward off insects and insects like mosquitoes and ticks.
hypoallergenic dog shampoo –
Allergy-Free
When buying pitbull shampoo, read the list of ingredients carefully. Ideally, the shampoo should contain natural products and not many chemical additives—as these can be bad for your dog's skin allergies. Additionally, it should never contain ingredients that your dog is allergic or sensitive to.
Choosing a shampoo that is not only allergy-free but also hypoallergenic is very important for Pitbulls with sensitive skin. Chemicals and other irritants can be a big problem for dogs with allergies or skin infections, so it's important to get the best hypoallergenic shampoo.
PH Balanced
The pH level of a pitbull's skin is balanced at around 5.5. This means that the skin has perfect levels of acidity and alkalinity. However, many shampoos are too alkaline for Pitbulls—they have a pH level of 9-10, which is too high for their skin.
So, when you are buying shampoo for Pitbulls, always look for a gentle shampoo with balanced pH levels—one that is close to 5.5.
Ingredients To Avoid
Artificial Ingredients
The ingredients in some shampoos can harm your pet. The most harmful components include artificial colors and scents. Artificial ingredients can disrupt the natural pH of a dog's skin and its coat, making the skin more susceptible to bacteria and dryness. They can also contribute to skin irritation, allergic reactions, and hormone imbalance in some dogs. 
Cocamide DEA
Cocamide DEA is a chemical compound used to create a foaming agent in shampoos. According to researchers, Products with Cocamide DEA are not safe for use on the skin, posing severe health risks. 
Most Pitbull shampoo products contain cocamide DEA, a chemical that has been linked to cancer. It is suspected to disrupt hormone production. You should avoid using any shampoos that contain this ingredient to remain safe from its toxic effects.
Alcohol
Pitbull shampoos are becoming more popular in the grooming industry. However, many of these products contain alcohol which can be harmful to your dog. Alcohol is used in some shampoos to alter the pH levels to make them more acidic. 
This makes it easier for pets to get rid of their fur but dries out their skin and coat. Alcohol can also cause flaking or dandruff-like symptoms on your dog, which will need constant grooming to get rid of it.
Final Thoughts
In this article, I've offered up some of the best shampoo options for pitbulls, as well as some things to consider when looking for that perfect product for your pet. I hope that you're able to use this information to find a shampoo that works well for your canine companion, bringing out the best in its fur, coat, and well-being.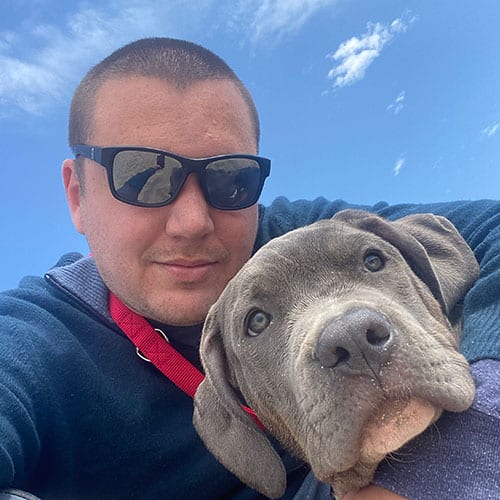 I created this blog to share my passion for bullies, and help current and future pitbull owners with things like diet and education.
Hope you find it useful, don't hesitate to drop a comment on my articles!