This article may contain affiliate links, and I will be compensated if you make a purchase after clicking on my links (at no additional cost to you)
American Bullies make great pets—anyone who owns a Bully knows this. In addition to being smart and high-energy, they are family-friendly, gentle, and loyal dogs.
These are also some of the best qualities of a service dog, so can an American Bully also be one? 
An American Bully can be a service dog if they are trained from a young enough age. However, they are not the best option due to their physical attributes and shorter life span. Any breed can technically be service dogs, but the Bully would be better suited as an emotional support dog. 
In the rest of this article, we will tell you why American Bullies might not be the best choice for a  service dog, but why they can be amazing emotional support dogs.
We will also talk about service dogs and emotional support dogs' requirements, the best types of breeds for service dogs, and American Bullies' benefits as emotional support dogs. 
Why Can't American Bullies Be Service Dogs?
The American Bully is a mixed breed dog bred from American Bulldogs and Pitbulls. They have the short, stocky build of the Pitbull with the gentle and loving demeanor of bulldogs. While American Bullies make excellent pets and friends, they wouldn't be the best option for trained service dogs. 
The primary reason is their health—American Bullies tend towards brachycephalic noses (the squishy noses associated with bulldogs and pugs). Brachycephalic dogs cannot walk very long without getting winded. The shape of their nose and airway can lead to other long-term health problems. 
Because of the physical nature of many kinds of dog services, an American Bully's physical health could become a problem. They also have shorter life spans than other breeds, and therefore, shorter working careers. Instead of replacing a service dog every 10-15 years, an owner would need a new service dog every 5-10 years with a Bully. 
In addition to health issues, American Bullies take longer to train than other dogs. When they are well-trained, American Bullies are sweet, loyal, and obedient. However, their strong personalities and physical force make the training process a long one. A service dog needs to be friendly, nonaggressive, and willing to do the specific tasks for their owners.  
What Are the Requirements for a Service Dog?
A service animal is an animal—usually a dog—trained to perform specific tasks to assist someone with a disability. Each service dog is prepared for one particular disability or person; thus, the training requirements vary widely. Still, there are a few personality traits that hold steady. 
Human Requirements
A person must have a verifiable disability that will require them to need a service dog to be considered for one. It's not very hard to prove this necessity with a doctor's or therapist's letter. The owner must also be willing to answer two questions about the dog when in public: confirming that they are a service dog and enumerating the tasks they perform for the owner. 
Dog Requirements
The dog must be well-mannered at all times and able to perform the tasks related to their owner's disability or needs. Much of this comes down to training, although a dog's personality is a large part of the selection for service dog work. Good service dogs are:
Always willing to work
Intelligent
Friendly
Calm 
Although it is possible to train your own service dog, it's highly recommended that you have a professional trainer assist or do the training themselves as the requirements to get a dog registered as a service dog entail specific training. It can be difficult for a dog to adjust from being a household pet to a service animal—service dogs are technically not pets.
What Dog Breeds Make Good Service Dogs?
Any breed of dog can be a service dog when properly trained from a young age. Some species are more common—surely you're thinking of a Golden Retriever or Yellow Labrador right now—and some breeds, like the American Bully, wouldn't work quite as well because of the requirements. Here are some of the most common breeds for service dogs: 
Labradors 
Golden Retrievers 
Standard Poodles 
Collies 
Bernese Mountain Dogs
German Shepherds 
These dog breeds have longer life spans, and are intelligent and docile dogs. They are easily trained to perform specific tasks and will bond quickly with their owner. The dog's personality is more vital to service training than their breed, but these breeds tend towards positive traits. 
American Bullies are not the only dogs not recommended for service work. Among them are Dobermans, Great Danes, Pugs, and other dogs with shorter life spans or chronic health conditions. These breed restrictions come from practicality and a desire to help the owners of service dogs. 
What Is the Difference Between a Service Dog and an Emotional Support Dog?
A service dog performs tasks for their owner in relation to a disability. These aren't always physical disabilities, but the actions the dog takes require training and physical ability. Service dogs are generally allowed to accompany their owner wherever they go, which is why the registration and training process is more rigorous. 
The work a service dog does is more specific than that of an emotional support dog, and it varies with each dog and disability. These dogs often have trained for one particular person instead of a certain illness or need. Service dogs are prepared for all kinds of help, including being: 
Allergy detection dogs
Autism service dogs
Seizure alert dogs
Psychiatric service dogs
Guide dogs 
Hearing dogs 
Diabetic alert dogs
Emotional support dogs are solely for emotional support and don't help with physical tasks in any way. They don't go through the necessary training of a support dog but are registered with a signed letter from a licensed therapist. There are no breed restrictions or other requirements—as long as a dog helps in times of stress and anxiety, they can be considered an emotional support dog. 
Emotional support dogs and service dogs perform great work to keep their humans healthy and happy. The specifics vary, but both kinds of dogs provide more stability and functionality as they do their jobs. For people with disabilities, service and support dogs give them the freedom to move about and live their lives. 
Can an American Bully Be an Emotional Support Dog?
As we've discussed, an American Bully wouldn't make a great service dog. This isn't because of the Bully's personality but due to the breed's physical health complications.
On the other hand, an American Bully has the necessary sweet temperament of an emotional support dog which requires less training and physical work than a service dog.  
For all the same reasons that they are great family pets, American Bullies would make amazing emotional support dogs. They are naturally loyal, protective, and form close bonds with humans, keeping those bonds throughout their lives. 
Of course, emotional support dogs have one requirement: they have to give consistent emotional support to their owners, especially during anxious or depressive episodes.
With a loving American Bully, this requirement is generally straightforward to meet. Once you've received a letter from a licensed therapist confirming the support you receive from your dog, your Bully can officially be an emotional support animal. 
Final Thoughts
American Bullies aren't the best option for a service dog because they tend to have long-term health issues and shorter life spans. However, they could be considered emotional support animals for their sweet temperaments and loyal hearts.
Although American Bullies don't make great service animals, they are still fantastic, loving, and gentle pets. 
Sources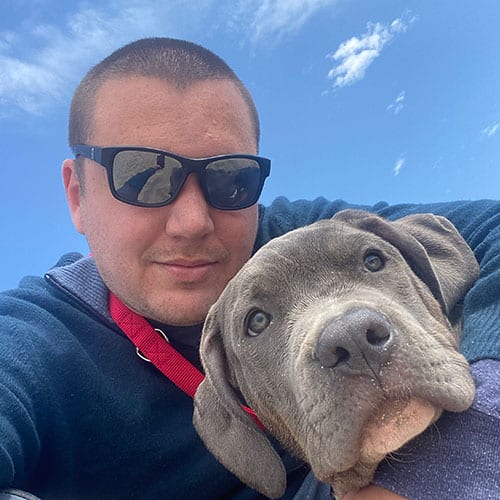 I created this blog to share my passion for bullies, and help current and future pitbull owners with things like diet and education.
Hope you find it useful, don't hesitate to drop a comment on my articles!