This article may contain affiliate links, and I will be compensated if you make a purchase after clicking on my links (at no additional cost to you)
American Bullies are excellent companions. They were developed by cross-breeding different dogs and are usually calmer than their counterpart Pitbull. But like all animals, they have particular dietary requirements that you need to keep in mind.
Here are 9 things that American Bullies are often allergic to:
Some dairy products
Pork
Fish
Wheat
Corn
Soy
Eggs
Lamb
Beef
The most common allergies that dogs get come from food. These allergies can range from mild rashes or itchiness to more severe health problems.
If you're planning to own an American Bully, I recommend avoiding the 9 food items below that I'll discuss in detail. 
1. Some Dairy Products
Cheese is often used to reward dogs during training. However, you should know that too many dairy products can be extremely bad for your Bully.
Dairy products have lactose, and some dogs are lactose intolerant. The condition may lead to gas, vomiting, diarrhea, etc. 
Although American Bullies are lactose intolerant, a dairy allergy is different. Lactose intolerance can be seen as symptoms of digestive issues, while dairy allergies are visible on the skin as rashes and itches. After consuming dairy products, some dogs even develop itchiness and other non-digestion-related symptoms.
2. Pork
I decided to give pork to my dog as it's rich in protein, but it proved to be a food allergen for American Bullies. When I read about it on sites like the American Kennel Club, I learned that uncooked pork could often cause a disease known as trichinosis. The condition is common in humans, too.
However, there are many food items available in the market, with pork as one of the ingredients. So, my suggestion is to experiment around a little to see if your American Bully can handle pork or not.
3. Fish
Fish is often fed to dogs since it's an excellent source of protein. However, American Bullies may develop vomiting, diarrhea, constant scratching, licking, etc. Trust me; if you don't want your home to be a mess, stop feeding fish.
But according to PetMD, fish is entirely safe for dogs. Sardines are widely accepted as the standard fish to feed dogs, while you should stay clear of sharks, tilefish, swordfish, king mackerel, and canned albacore tuna.
4. Wheat
This one can be controversial since dogs don't necessarily require a gluten-free diet, unlike some humans. However, many dogs are allergic to grains, including wheat, so grain-free dog foods have gained such popularity. These foods have other products like potatoes and peas to compensate for the nutrition from grains.
There's a problem with how wheat is stored. These grains attract dust mites, and dogs are often allergic to them. Honestly, I was undecided when I started writing this article, but I put this down anyway.
5. Corn
Though a vegetable, corn has small kernels that are sometimes not easily digested by the dog's digestive system. Moreover, they may eat the whole corn cob rather than the kernels, making matters worse. 
But even in dogs with an overactive immune system, corn can be dangerous. It may lead to severe allergies in American Bullies with symptoms like hives, itching, abdominal cramps, intestinal blockage, vomiting, etc.
6. Soy
Soy, rich in proteins, especially for vegetarians, can lead to allergies in American Bullies. They may develop severe medical complications like reproductive issues, growth problems, thyroid, and liver disease. 
The issue of soy in pet foods is a hotly debated topic. But many people agree that soy is bad for pets, significantly since 90% of soybeans in America are genetically modified. 
7. Eggs
The body of American Bullies overreacts to the proteins in the egg yolk, resulting in severe allergies in their body. Also, if eggs aren't adequately cooked, your dog can get infected with Salmonella. 
However, eggs are excellent for most dogs, so it's entirely your decision. I think boiled eggs are great, and they provide a range of nutrients like fatty acids, minerals, and protein that are vital for growth.
8. Lamb
Lamb meat was once marketed as a hypoallergenic item, but dog food makers have turned to other meats like bison or duck due to its increased popularity.
My dog actually doesn't show any allergic reaction to a lamb based, no grain dog food. However some dogs may be allergic to lamb.
9. Beef
Believing the traditional thought that I must feed protein-rich foods to my dog, I fed my American Bully beef. I just want to cry and say that American Bullies are also allergic to beef.
Beef is one of the most common ingredients in dog food, and most pet owners prefer beef over other meat. In most cases, ground beef or those found in dog feed doesn't trigger an allergic reaction. But owing to its popularity, allergies due to beef are common in dogs.  
I would suggest you rotate different types of meat. It'll ensure that your American Bully isn't exposed to one kind of meat that might cause allergies.
Alternative Foods for Your American Bully
The good news is that you don't have to rely on a select few dog foods for your American Bully. There are plenty of options available on the market, including Amazon.com and Chewy.com, and most of these are great alternatives to the above foods.
Before buying any of these foods, please read the list of ingredients by visiting the page.
The Victor Super Premium is a grain-free food for dogs and an excellent choice as an alternative to wheat. However, it does contain premium-quality beef, pork, and fish. So, you need to be careful about feeding this to your American Bully if they are allergic to these meats.
But overall, this is a great product that contains loads of vitamins, proteins, minerals, and essential fatty acids that improves digestion and aid growth.
The Blue Buffalo Life Protection Formula is scientifically created for adult dogs with allergies. It contains chicken, brown rice, garden veggies, and fruit. The chicken is deboned, so it's safe for puppies, too. 
This formula contains high-quality protein for muscles and carbs that provide energy. It also contains many vitamins, minerals, and antioxidants that improve immunity.
The Purina Pro Plan for adults has been specifically made for sensitive stomachs. It contains salmon and rice, so first, you need to check if your American Bully can handle fish or not. 
This food item doesn't contain corn, wheat, or soy. It's nutrient-rich and includes omega-6 fatty acids as well for healthy skin.
Pedigree is a well-known pet food brand, and the Pedigree Adult Complete Nutrition is packed with essential nutrients for your American Bully. It contains roasted chicken, rice, and vegetables, none of which can trigger severe allergies. 
Along with vitamin B, zinc, and omega-6 fatty acid, a unique fiber improves digestion. It also has vitamin E, a well-known antioxidant and excellent for the body's immunity.
This dog food is yet another product that doesn't have grains. Moreover, it has proteins from buffalo and bison, which isn't that common in dog foods. Hence, the chances of getting allergies are reduced.
The other ingredients include peas, sweet potatoes, real fruits, vegetables, and dried chicory root. This food is high in protein and has antioxidants that boost overall immunity.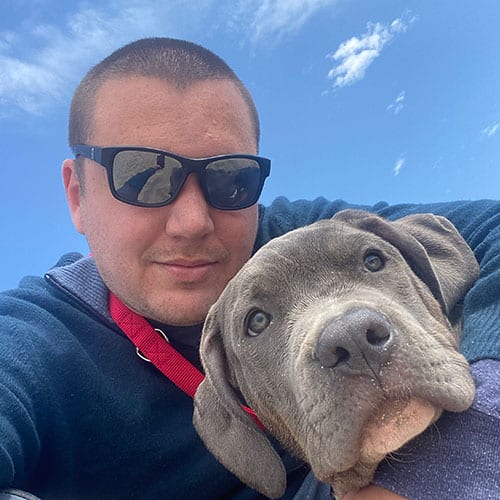 I created this blog to share my passion for bullies, and help current and future pitbull owners with things like diet and education.
Hope you find it useful, don't hesitate to drop a comment on my articles!